The Aquarium
Click on the pictures to see them full size.
In February 2003 I obtained a 4ft tank, and this 2ft tank was repurposed as a "pretty" tank. Click
here
to see more recent photos of both tanks. This page covers the 2ft tank from its inception in August 2001 until February 2003.
January 2003:
1 Pleco, 1 Pangasius Catfish, 6 Green Tiger Barbs, 1 Black Ruby Barb, 3 Longfin Zebra Danios, 1 Shortfin Leopard Danio, Pond Snails.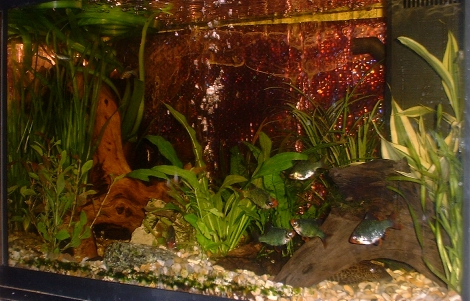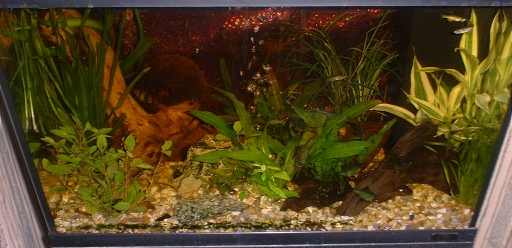 November 2002:
1 Pleco, 2 Pangasius Catfish, 7 Green Tiger Barbs, 6 Black Ruby Barbs, Pond Snails.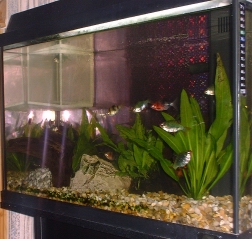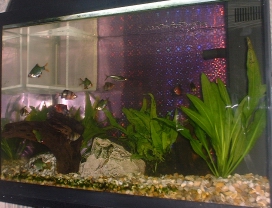 September 2001:
2 Silver Sharks, 6 Green Tiger Barbs, 6 Black Ruby Barbs, 1 Pond Snail.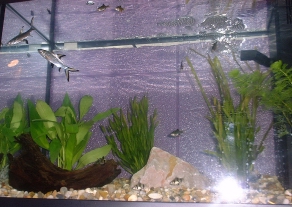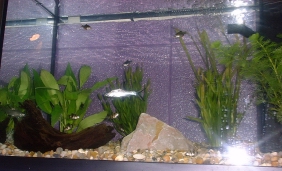 Back to Fish Index

Please click here to vote for this site at Aquarank!

This page last updated: 19 July 2004
---


If you have a comment, please leave it in the
guestbook
. To contact Flash directly, complete
this form
.
Like this site? Buy me a drink!
This site moved from a fixed width to the current layout in 2009. Some older content such as photo sets may still have a fixed width. However if you notice any pages which are actually broken, please be kind enough to let me know via
this form
.
© Flash Wilson 1999-2010.
I charge a fee for use of my photos
.
---