Tort's Glastonbury FAQ
Updated January 2008
Can I take my dog?
No. The days of travellers with their "doggy-on-a-string" at Glasto are long gone I'm afraid. Visit Strawberry Fair in Cambridge for the genuine article. Any animals found onsite are cared for by the local RSPCA. I'm not sure how this unfortunate fox got on however as he was trapped inside the fence shortly before the festival in 2007.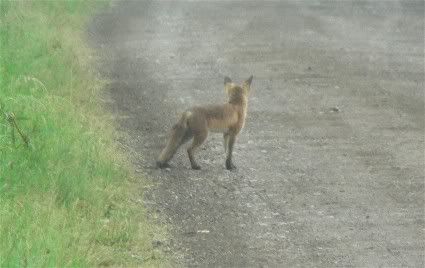 Can I work at the Festival?
Yes there are lots of opportunities to work at the festival and many people do stewarding, litter picking, recycling, green policing and other work. Most still have to pay a deposit which is roughly the face value of a standard ticket but this is refunded once you have completed your allotted shifts.
You do have to apply early however and most positions are filled before tickets go on sale so you can't always use working as a fall-back option if you are unsuccessful in getting one. People who have proved to be reliable in the past tend to get first dibs and anybody who doesn't complete their shifts gets placed on a blacklist to ensure that they are unable to work at the festival in future years. But it is a great way of getting involved, meeting new people and feeling part of the festival. Having worked for the first time in 2007 I can certainly recommend the experience.
More details on working at Glastonbury can be found
here
.
Is there much litter?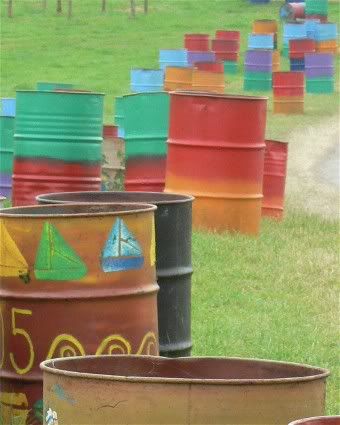 OK this is where I get on my soapbox & have a bit of a rant! Worthy Farm and the surrounding Vale of Avalon is an incredibly beautiful place. And yet far too many people who come to Glastonbury are just too damn lazy to put their rubbish in a bin or to bag up all their crap when they are leaving on the Monday and as a result the whole site just degenerates into a huge tip. There are literally thousands of bins across the site. You can't miss them. They're all brightly painted. Please use them.
Don't drop cigarette butts! They are non-biodegradable and every single one has to be picked up before the site can revert to being a dairy farm. Portable ashtrays are readily available these days. If you are a smoker then please add one of these to your kit list essentials.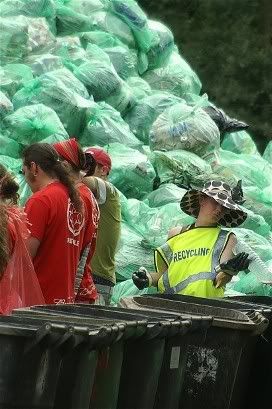 Photograph courtesy of Bob Rose
And when you leave on the Monday, bag up your rubbish and make life a little easier for the litter & recycling crews who have to tidy up after you. If you don't do it then somebody else has to! Green (recycling) and Black (landfill) bin bags are handed out by the stewards near the gates and are also available from Campsite Stewards and Info Points so there really is no excuse for leaving your campsite litter lying around when you go home. Leave nothing but footprints!
Does it get very crowded?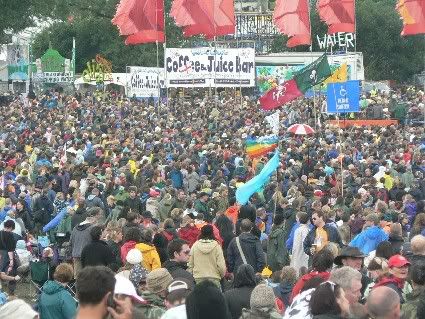 Even with nearly 180,000 people onsite there is generally plenty of space for everybody. However there are times when large crowds are on the move, especially in the evenings when people are moving between stages, or at the end of the headline acts when people are heading back to the campsites or on to the late night venues and gathering places. Most of the "pinch points" such as gates and bridges have been widened over the years but nevertheless it can be scary for those who aren't comfortable in large crowds. So please be careful, think of others, and don't add unnecessarily to any crowd situation.
When is the line up released?
The full line-up isn't usually officially released until 2-3 weeks before the festival but the names of a lot of the bands who are appearing tend to be leaked beforehand and some festival related websites provide lists of those acts rumoured to appear. Some people often put together "Clashfinder" timetables so you can work out whether any of your favourite bands are playing at the same time. Expect these to appear each year as the Festival approaches.
What times do the bands start & finish?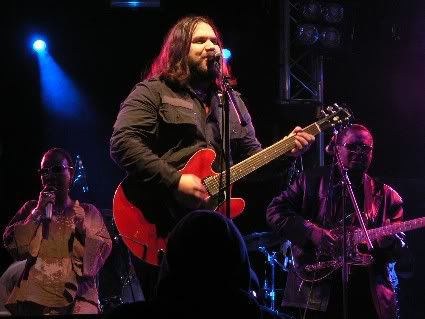 The first acts hit the main stages anywhere between 10am and 12 noon each day. There is a curfew on the main stages of half past midnight on the Friday and Saturday and midnight on the Sunday. Some of the other stages continue later and a few carry right on going all through the night. However the Festival was heavily criticised and could have been prosecuted for contravention of its licensing conditions due to late night noise in 2004, so some stages have been required to quieten down a bit or close earlier at subsequent festivals.
Which stages should I spend my time at?
The simple answer is as many of them as you possibly can! Different teams are responsible for running each of the stages and as a result they are all individual and all have their own unique atmosphere.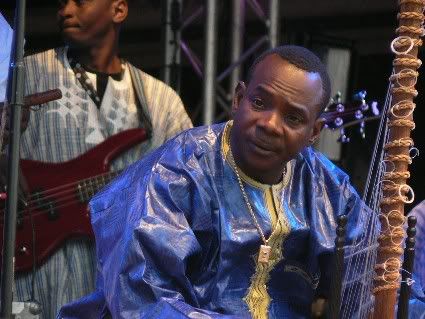 With there being so many stages spread over such a large area it is pointless trying to decide on all of the bands you want to see in advance because you will find that there are so many other things going on that you will be constantly distracted. Don't restrict your Glastonbury experience by just staying at the main stages. By all means pick 2 or 3 "must see" performances each day and then spend the rest of the time wandering and discovering new things. There is a surprise around every corner.
Changes to the locations and set up of the various stages are regular occurrences & this is symptomatic of the continual evolution that we see at the festival where old favourites disappear to be replaced by new surprises every year. However, to give you an idea of what goes on where, here is a quick resume of how the stages lined up last time.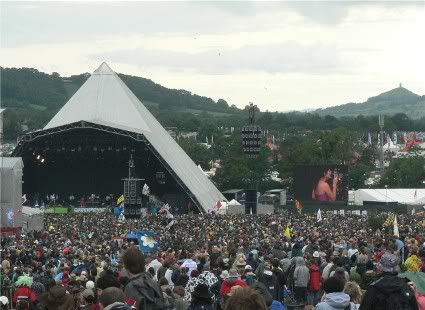 You won't have any trouble recognising this as the main
Pyramid Stage
. The Pyramid Field slopes gently uphill away from the Stage. There are also large screens on either side of the stage and on the mixing tower so it is possible to have a good view of what is going on well back from the stage itself, even with a crowd approaching 100,000 in the field. Some of the headline acts also benefit from having surround sound speakers as well as some of the best lighting & pyrotechnic displays you are likely to see in this country.
Acts who played the Pyramid Stage in 2007 included The Who, The Killers, Arctic Monkeys, Kasabian, Kaiser Chiefs and Paul Weller. That's Lily Allen onstage in the picture above in case you're wondering, with Glastonbury Tor in the background.
On the Sunday things tend to get a little more cultural. There is often a lunchtime session of brass bands, choral or orchestral music. We were even treated to a performance by the English National Opera on one occasion. Sunday afternoon also usually includes a golden oldies slot. In 2007 Dame Shirley Bassey donned her diamond encrusted wellies and in the past legendry names such as James Brown, Tom Jones and Rolf Harris have trodden the Pyramid Stage boards.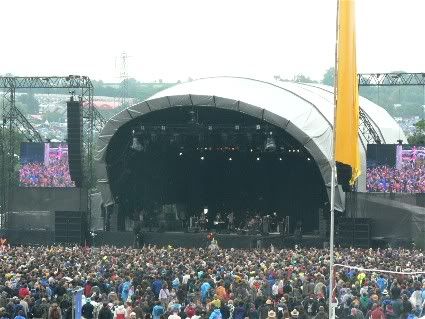 This is the second or
"Other" Stage
. The field here is flatter and, unless you got fairly close to the stage, it used to be difficult to see the bands until they provided screens for the first time in 2007. Acts on the Other Stage tend to be primarily rock & indie orientated although major dance acts have also appeared here over the last few years.
Acts who played the Other Stage in 2007 included Bjork, Iggy Pop, The Chemical Brothers, The View, Arcade Fire and Editors.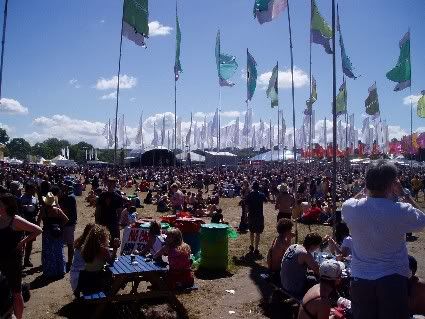 This is
Jazzworld
. It's my personal favourite of the 3 large outdoor arenas, as it has far more of the small festival type atmosphere that I tend to prefer. This was the first area that benefited from the addition of dozens of giant silk flags, borrowed from the WOMAD Festival, which have gradually spread around the rest of the festival in subsequent years. Acts on the Jazzworld Stage tend to be more eclectic and the stage was renamed "One World" in for one year in 2003 to reflect this before reverting to its traditional name in 2004.
Acts who played Jazzworld in 2007 included Amy Winehouse, Damian Marley, Rodrigo y Gabriela, Corinne Bailey-Rae, John Fogerty & Tinariwen.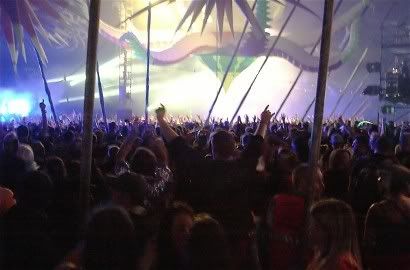 Photograph courtesy of Bob Rose
For many years, Glastonbury had one huge 6,000 capacity Dance Tent. This was the venue for historic sets by the likes of Fat Boy Slim, The Chemical Brothers and Scissor Sisters, and also the scene of the infamous Toilet Truck incident where one of the lorries was brought in to pump out mud and was accidentally set to blow instead of suck!
In 2005 the one big Dance Tent was replaced by a number of smaller stages to create a Dance Area with at least 7 different venues. There were still two quite sizeable marquees. The largest of these is called '
East Coast
' and in 2007 this hosted such luminaries of the dance music scene as Fat Boy Slim, Carl Cox, Mr Scruff and Mika.
Close by is the marginally smaller '
West Coast
' tent where the likes of Dreadzone, Eat Static, Sasha and Coldcut supplied the beats & bleeps.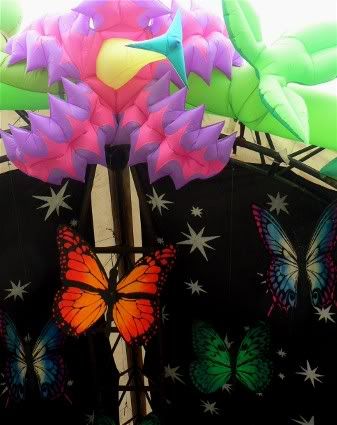 The
G Stage
is an outdoor dance venue with some intriguingly intricate ultra-violet decorations.
The
Roots Tent
has more in the way of live bands playing dub & reggae whereas the
Dance Lounge
has a live music venue and also a lounge bar in an adjoining marquee.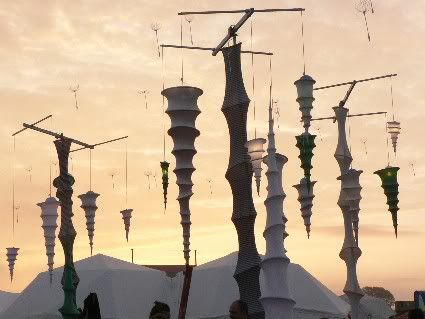 ID Spiral
is a great place to go & chill among the giant dandelion seeds with trance music playing and an excellent little cafe selling organic cakes and the like. I actually took this photo at dawn at the Sunrise Celebration Festival but the set up and the vibe is much the same at Glastonbury.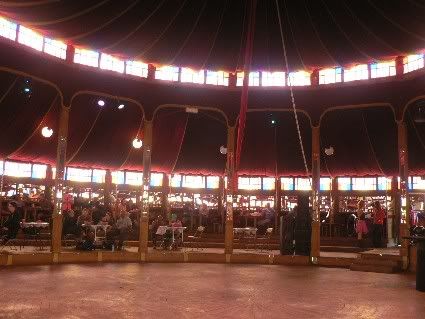 The
Pussy Parlour
is housed inside a beautiful old wooden "spiegeltent". It has its own bar and you can sit at the benches which surround the wooden dance floor. DJs and acts often play later here than at the other venues in the dance area which are affected by the 12:30am curfew.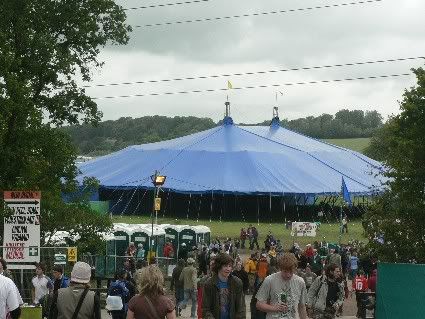 Beyond the Dance Area, on the western edge of the site, you will find the
John Peel Stage
. This was previously known as the New Bands Tent but was renamed in memory of the legendary DJ in 2005.
Acts who played the John Peel Stage in 2007 included Hot Chip, Pigeon Detectives and Calvin Harris.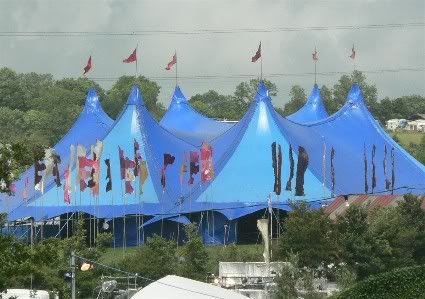 The pointed roof of the impressively proportioned
Acoustic Tent
is visible from around the Festival site. This is where some fairly big name rock acts play acoustic sets as well as the more folky regulars. It also benefits from having the Real Ale Bar right next door.
Acts who played the Acoustic Tent in 2007 included Damien Rice, Hothouse Flowers, The Waterboys, Nick Lowe and KT Tunstall.
In 2007 we had a completely new entertainment area which was positioned at the top of the Home Park camping field. Simply entitled
The Park
the area was programmed by Michael Eavis' daughter Emily and included several music venues.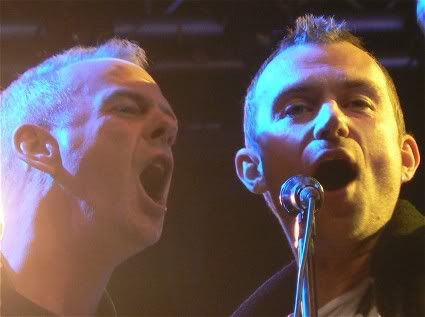 The main stage here is positioned in a natural amphitheatre with impressive flaming columns to either side. The musical highlight of my Glastonbury in 2007 was the Africa Express collaboration which was organised by Damon Albarn and included surprise guest performances from Billy Bragg, The Specials, Magic Numbers and Fat Boy Slim as well as the cream of African musical talent.
Photograph courtesy of P.R.O.D.
Close by is a marquee housing the rather bizarre sounding
Silent Disco
where punters don headphones in order to listen to the music & dance into the small hours. In this picture you can see the crowd enjoying my friends People's Republic Of Disco doing their turn on the decks.
Also in the Park is a further outdoor venue called
BBC Introducing
where up & coming bands from around the country were invited to play, having been chosen for the honour by local BBC Radio stations.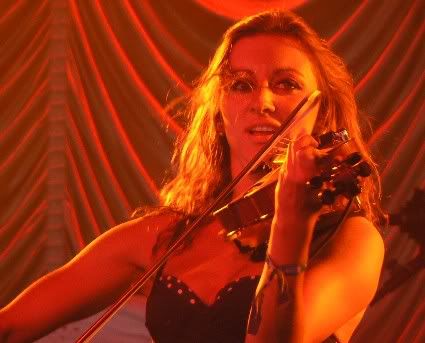 The
Avalon Stage
is only a short walk from the Jazzworld Stage & has a nice friendly club-like atmosphere and some really funky decorations.
Acts who played the Avalon Stage in 2007 included The Cat Empire, Seth Lakeman, The Sawdoctors and Bellowhead. This is Anna Phoebe of Oi Va Voi entertaining the crowd on the Friday afternoon.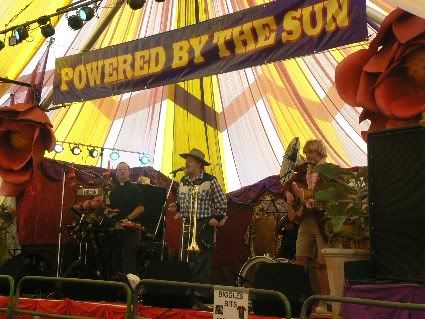 Croissant Neuf
is the biggest of the Greenfield venues and usually has a mix of more hippified acts. It is powered entirely by natural energy sources. This is Biggles Wartime Band who are regulars on the stage here.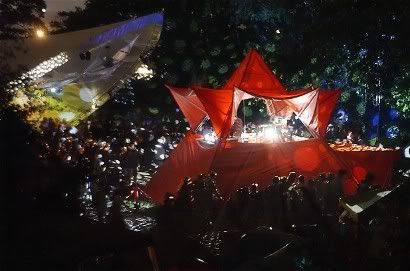 Photograph courtesy of Bob Rose
Until 2000
The Glade
was just a bunch of trees & a very smelly toilet. Since then it has been an outdoor dance area which has changed in format every year since it appeared. Things were quietened down a little in this area in 2005 and for the first time in 2007 the main stage area was fully covered with less dance acts and more live music being played than has been the case in the past. There were still plenty of ambient tunes to chill to late into the night however.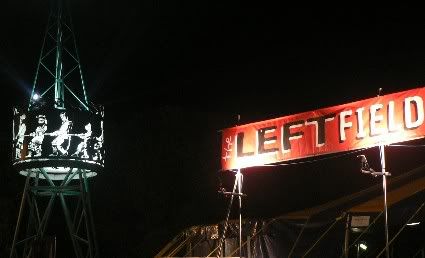 Leftfield
was repositioned in 2004 and increased in size in 2005. It is easily identifiable at night from the illuminated tug-of-war sculpture which stands at the entrance. This is where you can listen to & get involved in political debate and educational films & lectures. Tony Benn has famously made a couple of appearances. It is also where politically motivated musicians like Billy Bragg & Seize The Day do their thing as well as late night DJ sets on 2 separate stages.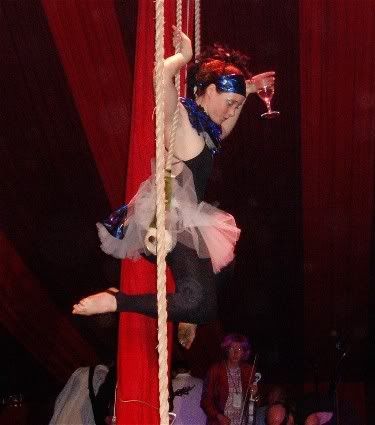 There are usually at least two venues in the Lost Vagueness area, which have bands, entertainers and DJs performing right through the night. The largest of these is the lavishly decorated
Ballroom
where you can often catch bizarre burlesque type acts in between the bands on the stage.
Acts who played the Ballroom in 2007 included Madness, Chas 'n' Dave and The Beat.
There were more strange nocturnal goings-on at the nearby
Strummerville Stage
where Dirty Pretty Things and Keith Allen were among the many delights on offer right through until dawn on the Monday Morning.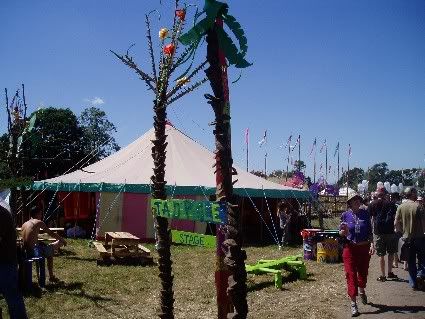 The
Tadpole Stage
is another, smaller and very intimate, one of the Greenfield venues. You will also find the
Small World Stage
and the pedal powered
Mandala Stage
in this area, provided you look hard enough.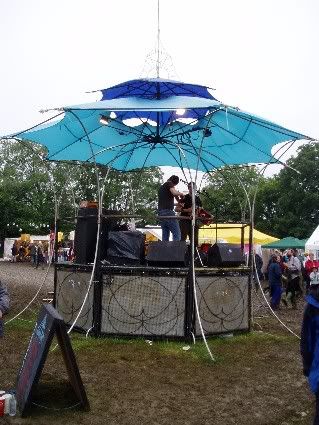 The
Bandstand
is situated in the middle of the main market area and is a great place to sit and listen to some of the unknown gems that play there. Who could possibly forget the rampant skiffle of Flaky Jake & The Steaming Gringos a few years ago.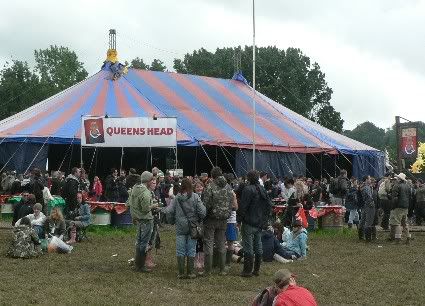 The
Queens Head
was previously known as The Crown in the days when the beer tents were sponsored by Budweiser. It is basically a large boozer in a tent situated to the side of the Other Stage arena and which had live performances from the Thursday lunchtime right the way through the weekend in 2007. The line up here is organised by Q Magazine.
As well as all of the above, several of the bars and cafes dotted around the site have small stages where acts will entertain you while you glug your cider & munch your falafels. You are unlikely to find any details of who is playing or even where these venues are in the programme. You'll just have to wander & discover them for yourselves.
What else is there to see & do?
It is entirely possible to spend 5 or 6 days at Glastonbury and not watch a single band and yet still have the most spectacular few days of your year. Here are a few of the other attractions that make Glastonbury so much more than just another Music Festival.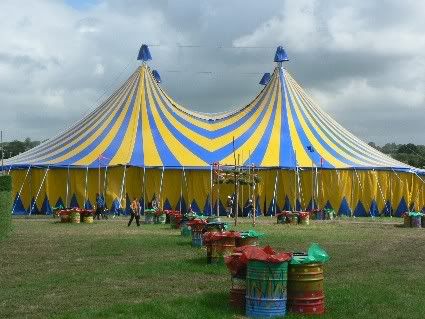 A visit to the Cabaret Tent is a must. There is always an impressive line up of comedians and cabaret artists. John Otway regularly appears here.
Next door to the Cabaret is the Circus Tent. There is usually lots of additional outdoor entertainment from jugglers, escapologists, sword swallowers, unicyclists & the like going on in this field as well and in 2007 we also had a maze and an interactive forest of chiming steel tubes.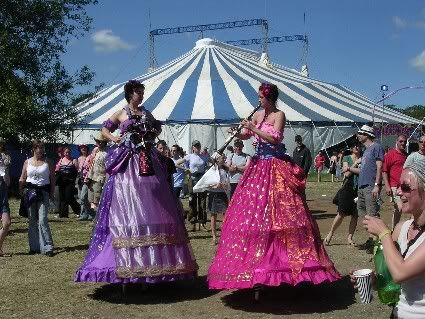 Photograph courtesy of Skeeewhiff
The Theatre Field has two stages. The Belle Epoque is inside a marquee and the Fire & Dance Stage is in the open air. Bill Bailey made a late night appearance here in 2007.
You will also see lots of roving performers both here and also elsewhere around the site.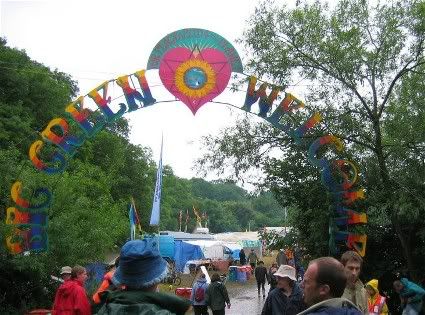 Photograph courtesy of mssoft
Glastonbury retains its hippy origins in the Greenfields and you simply must make time to spend at least a few hours of your weekend wandering around the fields that make up this area.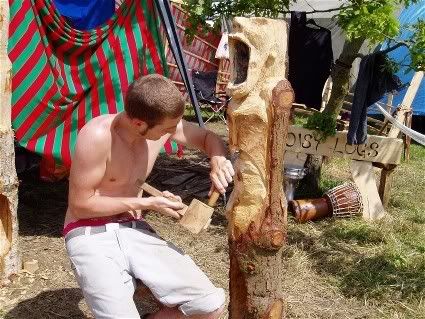 There are numerous displays of traditional crafts and renewable energy resources. You can also participate in various workshops so you can practice yoga or learn how to play that Didgeridoo before you buy it!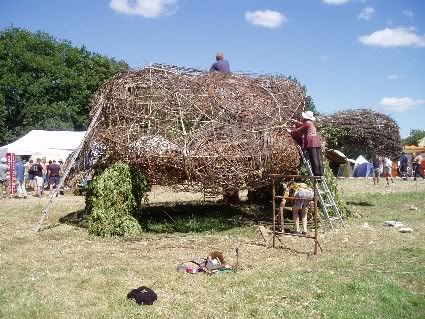 There are always several impressive sculptures and at least one of these is usually created during the course of the festival so you can watch it develop over the weekend.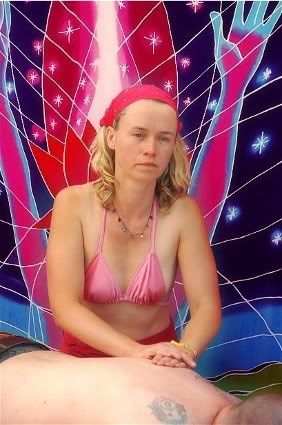 Photograph courtesy of Bob Rose
In the healing field you can learn about different faiths, alternative medicines and healing techniques. You can also enjoy a massage to revitalise those aching limbs.
Photograph courtesy of Bob Rose
There's even a beach!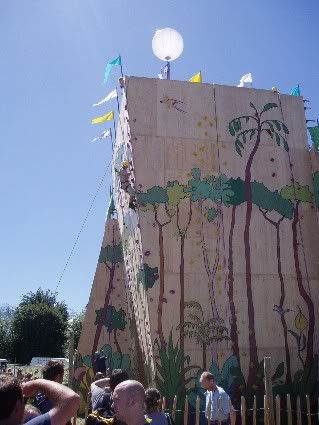 Greenpeace have their own field where they promote their worthy cause. They also encourage you to get active, and have things like climbing walls and skateboard ramps - all made from sustainable timber of course.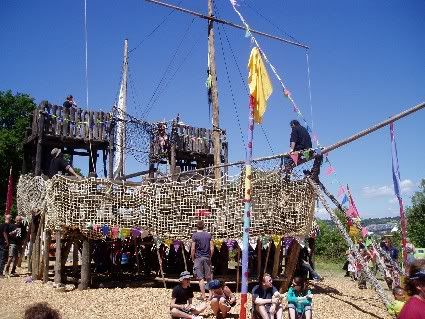 This is where you will also find the wooden ship, Rainbow Warrior. She's actually been there longer than the Stone Circle has and was looking very rickety a couple of summers ago but repair work has been undertaken to ensure that festival goers are able to enjoy her at least until the next expected fallow year in 2011.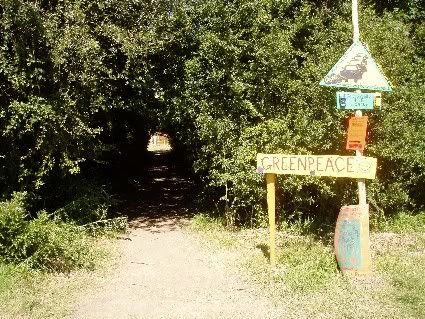 This is The Tunnel that leads under the disused railway track between the Greenpeace & Green Futures Fields. It's one of the many little corners of the festival that people often won't have discovered, even after several visits. In 2000 they had an ambient sound system which was supposed to respond to your movements as you walked through. Although I could never get it to work properly!
There is a large outdoor Cinema which shows 3 films every night from Thursday to Sunday, running from 10pm through to 4am. This picture gives you some idea of the scale of the massive screen. There is also a large marquee known as "the Pilton Palace" in the same field which shows children's animation and short films throughout the day.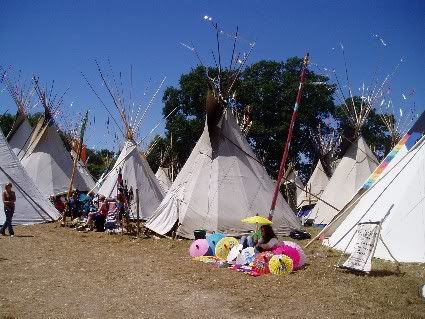 On my first visit to Glastonbury I arrived with a couple of mates at about 2am on the Thursday morning. We put our tent up in the dark & decided to go for a bit of a wander. Within just a few minutes of leaving the tent we had stumbled through the mist & campfire smoke, over a little bridge and into the Tipi Field, just as the first glimmers of the new day came flickering through the valley. It was very quiet & utterly surreal and I knew at that moment that this thing called Glastonbury had well & truly got its hooks into me & wouldn't be letting go for a while.
You are welcome to wander through the Tipi Field and participate in the activities that take place there. However please note that that camping in the Tipi Field is now reserved for people who are able to provide their own accommodation and many of the people who bring their tipis actually live in them for a good proportion of the year. If you want to experience living in a tipi for the duration of the festival then see the "Can I Hire A Tipi?" Section above.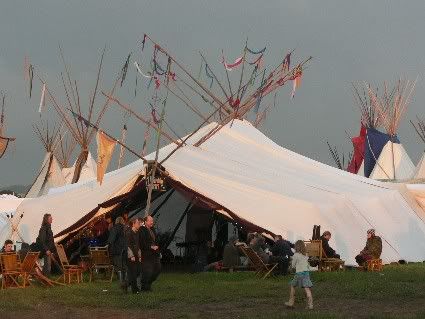 An additional attraction which appeared in the Tipi Field for the first time in 2007 was the wonderful Bimble Inn. This is basically an enormous elongated tipi with a bar, cushioned seating, live entertainment and oversized versions of games like Jenga and Connect 4. I took this photo of the Bimble Inn at the Sunrise Celebration Festival and you can also enjoy its hospitality at several other events throughout the summer.
Lost Vagueness is an area that was developed by the travelling fraternity and, for many, has been the place where the traditional Glastonbury party vibe has remained at its strongest. The area covered by Lost Vagueness has grown considerably over the last few years and now incorporates the "Chapel", the Ballroom, several stalls & stages, as well as the Casino from which the area originally derived its spoof Las Vegas name. There is a cafe where the seating is provided in dodgems and other fairground rides and you can also hire luxury caravans on a nightly basis.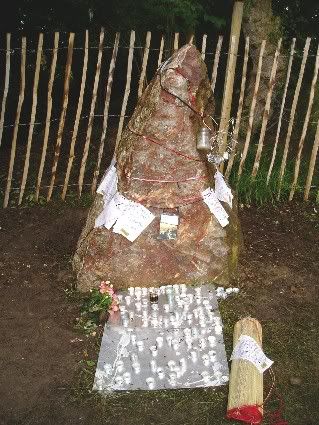 In one quiet corner of the field you will discover this stone which is a permanent memorial to Joe Strummer, the legendary leader of The Clash.
For more information on Lost Vagueness you can visit
their website
.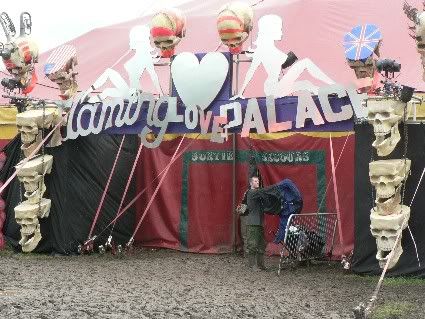 Trash City is a new area developed as an alternative late night venue in 2007 and I have to say that whereas I feel that Lost Vagueness is getting rather long in the tooth, Trash City added a much needed fresh new feel to the late night oddities. Venues here such as the Flaming Love Palace are full of the weird & wonderful. A fantastic fire show, an apparantly crashed passenger plane & scrapyard sculptures from the Mutoid Waste Company add to a wonderfully surreal experience.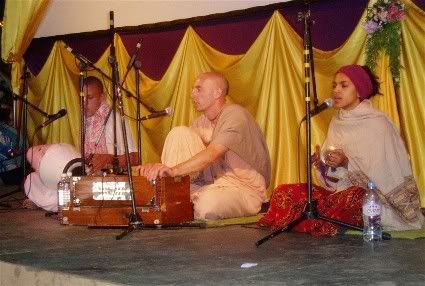 I always make sure I spend an hour chilling with the Hare Krishnas. Their tent can be found in the "Holts" Field between the Glade & Jazzworld. They generate more of a celebratory atmosphere here at night with large crowds gathering to join the chanting. The words are easy to learn!
There are more details on a variety of different faith groups at the festival
here
.
At the extreme southern tip of the festival site you will find Kings Meadow, otherwise known as the Sacred Space. Here you will find the famous Stone Circle, which is a hive of activity at night but during the day it is generally a very quiet & peaceful area where one can chill out and take in the fantastic views across the site. In 2007 there was also Banksy's work of art to admire. It was variously referred to as 'Portaloo Sunset' or, rather less attractively, 'Bog Henge'.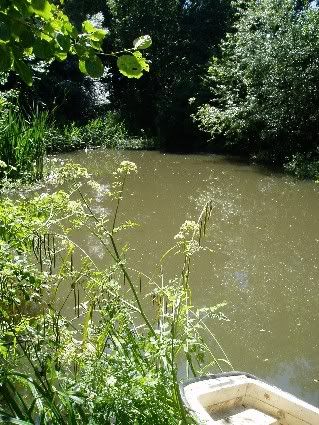 There are several small tranquil gardens around the Sacred Space and even a pond tucked quietly away to one side near the top entrance to the Dragon camping field.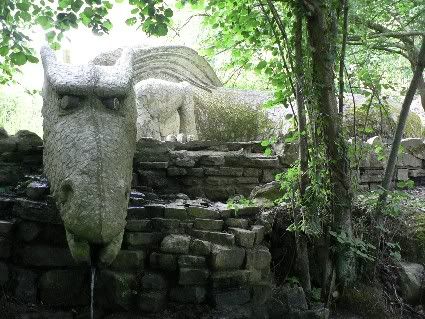 And here is The Dragon himself. You'll find him cooling himself in the wooded stream running down between the Sacred Space and the camping field that bears his name.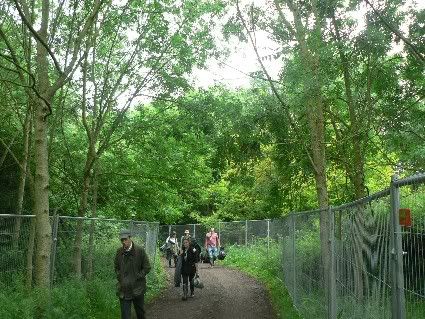 There are a couple of Nature Reserves on the site. The main one of these is next to the cinema field and although it is fenced off to protect the flora & fauna you are able to walk the path through the cool wooded area.
Can I get married at the festival?
I'm afraid not. People celebrating their weddings at Glastonbury is another one of the popular myths that has sprung up around the festival. It isn't possible to be legally married at Glastonbury because the site isn't licensed and doesn't have full public access for potential objectors.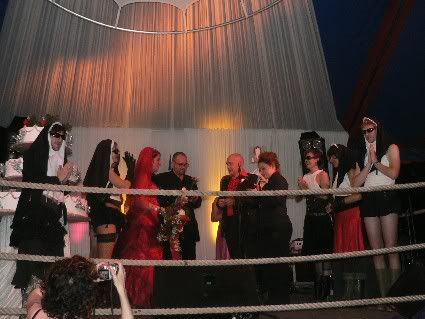 What you can do instead is have a Lost Vagueness style "wedding" in the First Presleyterian Church of St Elvis The Divine, which is just a bit of fun & isn't legally binding. These friends of mine were joined in "unholy matrimony" in the Chapel's Boxing Ring in 2007. Even if you don't know the people who are getting "married" it's well worthwhile going along for the experience. Everybody is welcome.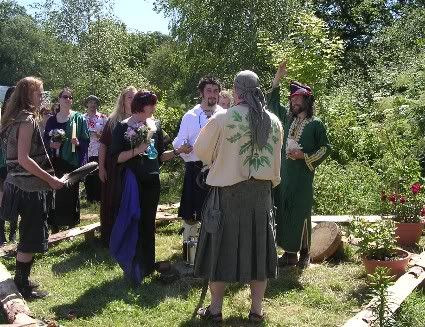 Photograph courtesy of Skeeewhiff
Alternatively it is possible to have a pagan hand-fasting ceremony in the Sacred Space. It can be a little difficult to find a willing pagan priest to officiate so some people make their own arrangements.
What happens at night?
Despite the curtailment on late night noise in recent years, Glastonbury is still a 24 hour event. You just have to look a little bit harder than you used to. When the main stages shut down for the night there is still plenty of stuff going on and places like the Stone Circle, Lost Vagueness, the Silent Disco and Trash City don't really start to come alive until after midnight.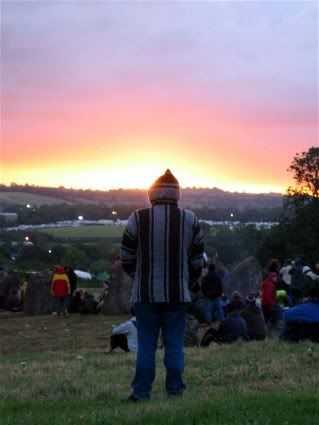 Photograph courtesy of Wiskey
At the Stone Circle you will find groups of people gathered around fires with impromptu drumming sessions and fire poi experts showing off their skills while people wait to greet the sun as it peeps out from behind the King Oak to start a new Glasto day.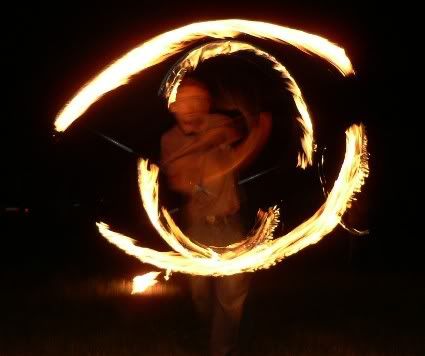 Lost Vagueness has a Casino for which you will have to dress up but costumes are available for hire relatively cheaply. The stages in Lost Vagueness also have bands & DJs playing all through the night and some of the other stages and cafes also have music to dance or chill to until the sun comes up.
Can I have a fire?
Yes you can certainly have a fire in most of the campsites although they are not allowed in the main arenas or the disabled camping area for safety reasons. Firewood is supplied in piles dotted around the site although these tend to disappear very quickly on the Wednesday and are only replenished sporadically throughout the festival.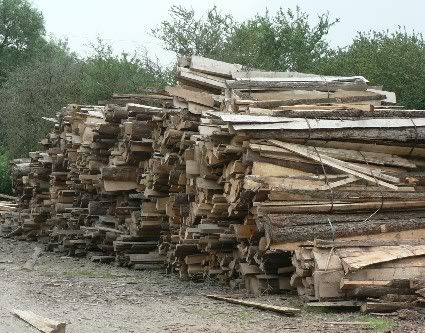 If you don't manage to get hold of any wood please don't resort to burning plastic. The smoke is toxic & it stinks! Even paper drinking cups are covered in wax which is pretty unpleasant when it burns.
Similarly please don't pull live wood from the trees & hedges. Not only does this damage the environment, the wood won't burn!
Where can I get additional information at the Festival?
A team of hard-working and friendly volunteers, recruited from members of CND, run 6 Information Points around the site. Their positions are indicated on the site maps. As well as supplying the free daily newspaper, toilet rolls and condoms, the Info Teams will be happy to help you with bus & train times and assistance in locating pretty much anything you need to find on the site.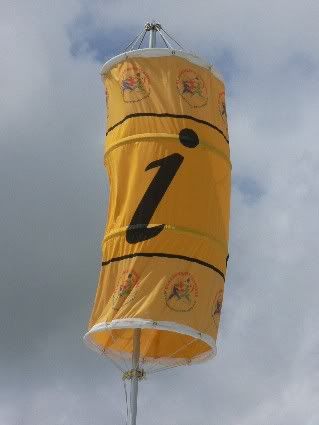 The main Information Point, known as "Ford", can be found at the Meeting Point opposite Leftfield. This and the Information Point close to Pedestrian Gate A are open 24 hours a day from Wednesday morning right through to Monday evening.
You will find additional Information Points close to both the Pyramid & Other Stages, in the Park and also close to the entrance to the Greenpeace Field. These are open from 8am until midnight from Thursday to Sunday.
When is the best time to leave?
You won't want to leave but all good things must come to an end. Some people leave on the Sunday evening and by all accounts get away fairly quickly. Most of the buses for people who bought coach package tickets are scheduled to leave early on the Monday morning in order to keep traffic disruption to a minimum. However, there is still plenty going on throughout Sunday night & a majority leave it until the Monday to make their return to reality. As a result the queues both in the car park and for the free bus transfer to Castle Cary build up very quickly on the Monday morning and I've personally been stuck in the car parks for more than 6 hours before I could finally start making my way home. I haven't even contemplated trying to leave until the early evening since. Many of the stalls stay open on the Monday until at least lunchtime and there are some bargains to be had.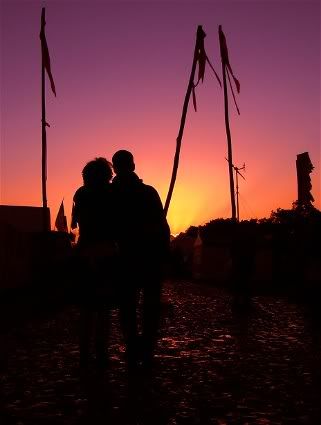 Photograph courtesy of Bob Rose
However, be wary. As the campsites start to clear the "tatters" move in. Most of these guys are genuinely on the lookout to salvage stuff that has been left behind. However there are an unscrupulous few who will help themselves to tents and contents that obviously haven't been abandoned so if you are leaving your tent up during the Monday afternoon it's best not to wander too far away from it.
When you get home make sure you take your tent out of its bag and air it fully before stowing it away. Mildew can start to form on a wet tent within just a few days. Also repair any bent pegs by laying them on a patch of grass & straightening them with a hammer.
Can I leave my tent to be recycled?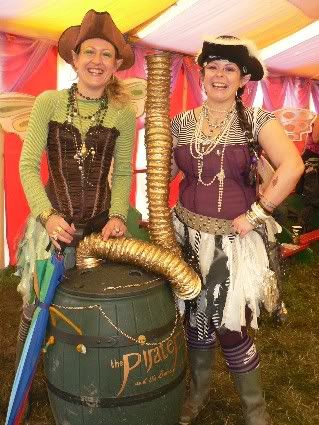 Yes you can. Glastonbury runs a scheme whereby donated tents are re-used as emergency accommodation in areas of the World that are affected by war & natural disasters. However please DO NOT just walk away and leave your tent standing. If you want to donate it then make sure that it is complete and undamaged. Take it down, put it in its bag and leave it either with the campsite stewards or at the relevant charity's stall. If you leave your tent standing it will either be claimed by somebody else or simply discarded as landfill.
Acknowledgments
Thanks for taking the time to read this. I hope you've found it to be useful and informative and that it helps you to get even more out of your Glastonbury Experience.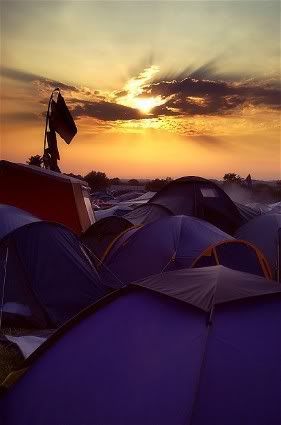 Photograph courtesy of Bob Rose
I'd like to express my sincere thanks to the following people for allowing me to embellish this piece of work with their superb photography.
Bob Rose of eyesopen.co.uk, wiskey, skeeewhiff, Vampthing, mssoft and Peoples Republic of Disco.
I'd also like to express my very special thanks to Vampthing for her kind input and assistance in bringing this project into reality, for hosting this piece of work on her excellent Gorge website & for putting up with my never ending updates.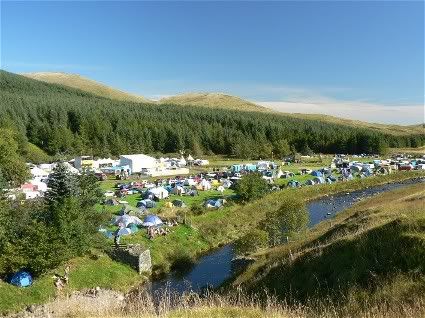 If you've really got too much time on your hands, click the link below for lots more photos of Glastonbury and some of my other favourite festivals. I hope they give you some inspiration for some alternative festivals in case you're not lucky enough to make it to Worthy Farm this year or possibly additional events to attend if Glastonbury gives you a taste for the unknown.
Happy Glastonbury
Tort -
Tort's Fezzy Photos
This page last updated: 01 September 2022
---


If you have a comment, please leave it in the
guestbook
. To contact Flash directly, complete
this form
.
Like this site? Buy me a drink!
This site moved from a fixed width to the current layout in 2009. Some older content such as photo sets may still have a fixed width. However if you notice any pages which are actually broken, please be kind enough to let me know via
this form
.
© Flash Wilson 1999-2010.
I charge a fee for use of my photos
.
---