Tort's Glastonbury FAQ
Updated January 2008
Introduction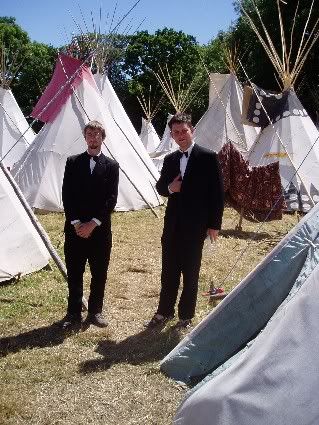 Hello & welcome to this little Pictorial Guide to the Glastonbury Festival which I have combined with answers to the Frequently Asked Questions (FAQ's) that regularly pop up on the
Virtual Festivals Glastonbury Message Boards
. I hope you find it informative and useful. It's something I dreamt up a few years ago in order to show new visitors (or Glastovirgins as we affectionately call them) what the festival is all about, rather than continually having to describe all the various attractions and facilities that make Glastonbury stand out as one of the best festivals in the World as well as the premier performing arts event in the UK. There might be a few useful tips in here for experienced festival goers too.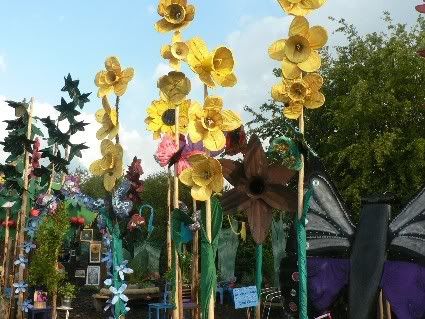 I'm not employed by the Festival or involved in any way in its organisation. The contents of this piece are based entirely on my own punter's perspective on the Festival. I've only been to Glastonbury 7 times so I by no means consider myself to be a veteran. But I do have nearly 30 years of regular festival-going under my belt and so I hope that the advice that I give here can be considered useful & sound & based on experience.
There is plenty more in the way of excellent advice to be found within the Information section on the
Official Website
and especially in the "Fine Guide", which is posted out to you with your tickets. An online copy of the 2007 version of the Fine Guide can be found
here
. Please take time to read and digest it fully before you arrive.
When is it?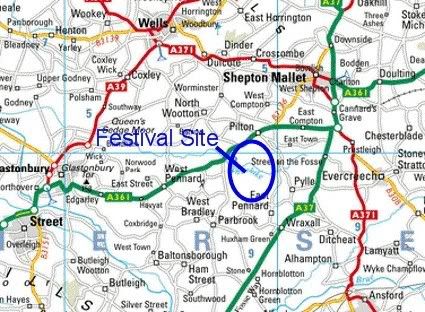 The Festival is always held on the first full weekend (Friday to Sunday) after the Summer Solstice, which almost always coincides with the last full weekend in June. The dates of the 2008 Festival will therefore be Friday 27th to Sunday 29th June. But the gates will open to ticket holders at 8am on the morning of Wednesday 25th June and as far as I've always been concerned the festival starts then & doesn't finish until I've left late on the following Monday afternoon.
In the past Glastonbury has had to apply annually for its license but in 2007 the festival was licensed to take place for each of the next 4 years, taking us through to 2010. Traditionally there is a 'fallow' year every fifth year so it's fair to assume at this stage that in all likelihood there will be no festival in 2011.
Where is it?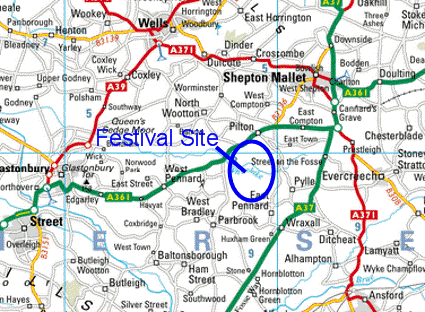 Anybody who hasn't been to the festival before would be excused for assuming that it is held either in or very close to the Somerset town of Glastonbury. This isn't actually the case. The site is on Worthy Farm, which is situated some 6 miles to the east of Glastonbury and 3 miles south west of Shepton Mallet, just off the A361 in the small rural village of Pilton.
How big is the site?
Even if you've been to some of the larger and more commercial music festivals before, nothing will prepare you for the sheer vastness of Glastonbury. From the farmhouse at the northern end to the stone circle in the south is a mile and a half and it will take you at least an hour to walk from one end to the other when there are nearly 180,000 people onsite. It is also a mile across from east to west plus at least an additional mile in each direction from the fence to the furthest extremities of the car parks.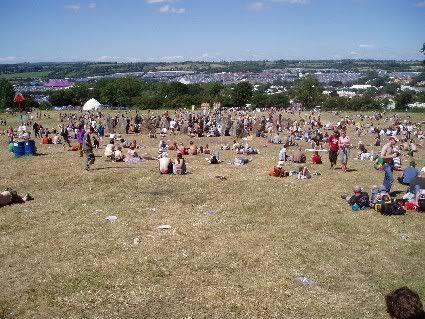 I would have included a copy of the Site Map. However for the sake of making this page readable for narrow-banders I'm afraid it would have had to have been reduced to such an extent as to have made it illegible. With thanks to Vampthing for hosting this,
click here for a copy of the site map
as included within the official programme in 2007.
A few stats to give you an idea of the scale we are talking about:-
Area of Site - 1000 acres (that's the equivalent of more than 500 football pitches)
Length of Fence - 8 miles
Number of Stages - at least 40
Number of Caterering outlets - Nearly 400
Number of Toilet cubicles - Nearly 3,000
Number of Tickets Sold - 135,000
Total Site Capacity - 177,500 (children under 13 not included)
How do I get tickets?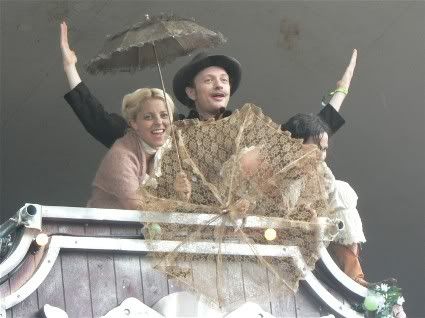 Tickets for the 2007 festival went on sale at 9am on Sunday 1st April and apart from a few coach package tickets they were completely sold out by 10:45. In order to be able to buy a ticket you first had to pre-register during February and supply a passport style photograph of yourself as well as your name & address. The photograph is printed on your ticket so that the stewards at the gate can identify you as the genuine ticket holder. No other form of identification is required nowadays apart from the face that matches the photo on the ticket.
Tickets are only ever sold through one official outlet. This was See Tickets in 2007. There are however "agencies" ("touts" to you & me) who often claim to have tickets for sale. They will not receive any official allocation so if you give your money to these people then the chances are you will lose it. Whatever you do, do not buy tickets on eBay. Tickets are personally identifiable and if you are not the person whose photograph is on the ticket you will not get in and you will have wasted your money.
Tickets are non-transferable although you are able to change the delivery address if you move or if the details are incorrect.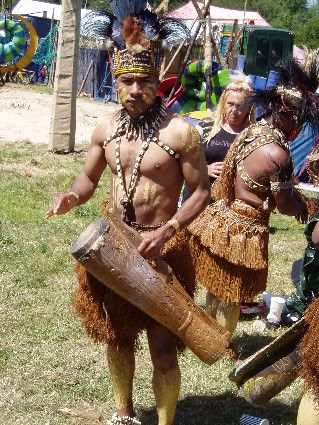 If you have to cancel your tickets for any reason you have until approximately 6 weeks before the festival to do so. There is no refund available after this date as the tickets will have already been printed with your photograph and personal details. If you can't attend due to illness or any other unforeseen circumstances then I'm afraid your only way of getting your money back is by claiming on any insurance you may have which covers such eventualities.
Tickets are usually sent out by courier during the first half of June. People who order their tickets online usually receive a reference number and may check on the progress of the distribution of their tickets by using an order tracking facility. If you are not at home when the courier tries to deliver the tickets you are able to phone them to arrange an alternative delivery date or address.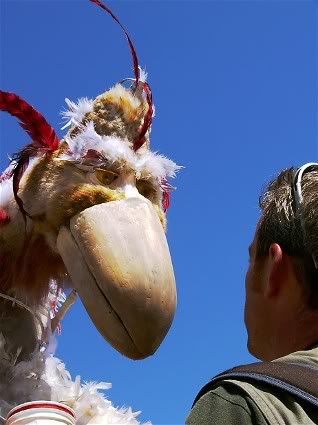 Photograph courtesy of Bob Rose
Can I buy day tickets?
Unless you live very close to the festival site then I'm afraid not. There are usually a few thousand One Day tickets for the Sunday but these are only made available to people living in Pilton & the surrounding towns & villages and details on how to obtain them are only published in the local press.
When should I arrive?
My personal advice is quite simply, as early as you possibly can. If you're not planning on turning up until the Friday then you will have missed out on 2 days of the festival and you will lose the opportunity to explore the site before you have the distractions of the entertainment on the main stages for the last 3 days.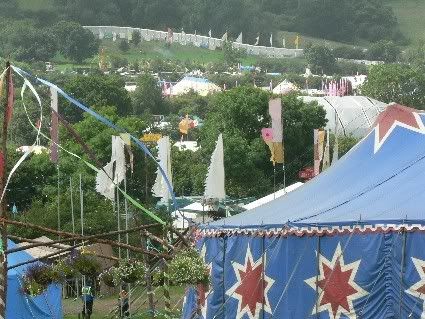 The car parks and the pedestrian gates are open 24 hours a day from 8am on the Wednesday morning so there is no problem with access if you arrive during the night. However if you do so then you should make sure that you are very familiar with putting your tent up in the dark and have a good torch available along with somebody to hold it. Also please be aware that the size of the festival is even more disorientating at night time and if you are new to it then finding your way to specific camping fields may be a lot more difficult than you would imagine. I certainly found this to be the case the first time I went & actually ended up in a completely different field to the one I thought I was in.
What happens on Wednesday & Thursday?
If you get there on the Wednesday you will have the pick of the camping spots and just be able to kick back and watch the festival build up around you. You'll have time to explore the Greenfields and the extensive markets and generally familiarise yourself with your surroundings. Most of the bars and stalls will be open and there is always some impromptu entertainment going on. There are also some scheduled performances at some of the smaller venues on the Thursday. There are loads of parties, especially at The Cider Bus, The Brothers Bar and up at the Stone Circle, and the vast majority of people will welcome you round their campfires.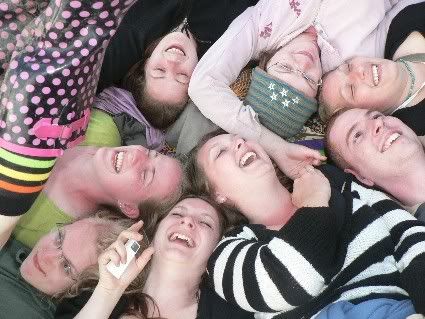 With the introduction of combined coach packages approximately half of all punters arrive on the Wednesday nowadays whereas only about 10% leave it as late as Friday lunchtime. So basically if you're not joining the early arrivers banging on the gates at 8am on the Wednesday morning you may well find that you'll regret it.
How do I get there?
Assuming you can't afford the helicopter trips that are sometimes organised separately by one of the locals, there are basically 6 modes of transport for getting to the festival:-
By Bus
National Express run bus services to the festival from many major towns, cities and airports around the country. More details can be found on the official website as the Festival approaches or from the National Express website.
For the first time in 2007 you could buy a combined coach & festival ticket package. This was to encourage the 22,500 extra ticket holders to use greener transportation methods. Anybody choosing this form of transport only gets their festival ticket given to them en route to the festival site in order to discourage them subsequently changing their minds & arriving by car. Most of the buses arrive on the Wednesday and leave in the early hours of the Monday morning in order to avoid adding to the traffic congestion during peak arrival and departure times. Unfortunately there were some pretty serious teething problems with the combined coach arrangements in 2007. One can only hope that these will be addressed and resolved in time for the 2008 festival.
Buses drop festival goers at the Festival Bus Station close to Pedestrian Gate A in the north-western corner of the site.
By Train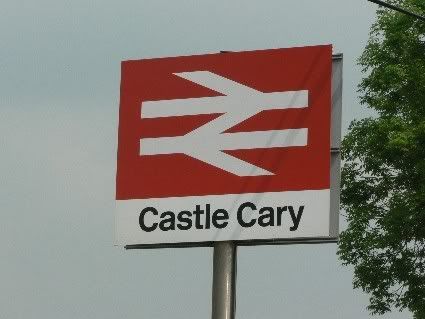 The nearest train station is at Castle Cary, 6 miles from the festival site. Castle Cary is on the main line to the South West out of London Paddington Station. More details of special train services are released as the festival approaches.
A free bus service is available to all ticket holders from Castle Cary to the Festival. This service generally runs into the night for as long as trains arrive so nobody needs to worry about being stranded overnight on a station platform with all their gear.
The free bus service will drop you off at the Festival Bus Station close to Pedestrian Gate A.
By Car
If you are travelling by car then don't forget that you will need to purchase a Car Park sticker (cost £10 in 2007). It's best to order this at the same time as you purchase your festival tickets but it is possible to buy one later if you forgot to do so at the time or if your travel arrangements change.
If you arrive on the Wednesday you will find that the traffic is relatively light and you would have to consider yourself unlucky to have to queue for more than a few minutes to get into the Car Parks.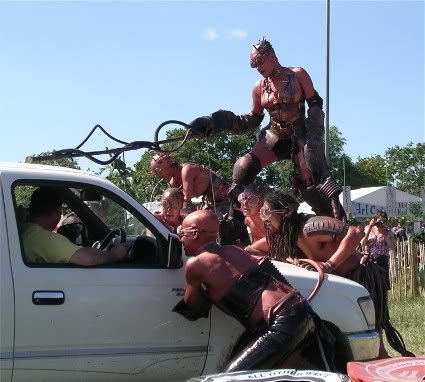 Photograph courtesy of Skeeewhiff
There are 2 main car parking areas and these are situated to either side of the site and are colour coded, blue in the east and red in the west. Few of the main eastern car parks are particularly close to the nearest gate and you will also have to scramble down the "Hill of Death", which is a rough and fairly steep track. Access to the car parks to the west is much flatter and if you arrive early enough on the Wednesday you can get very close to the fence. However once the traffic starts to build up you will be directed to the nearest car park to prevent traffic congestion on the narrow and windy road through Pilton and you won't be given a choice as to which car park you use unless you make a considerable diversion around the area and approach from the opposite direction. Peak arrival time is on Thursday afternoon & evening and it is not unusual to queue for a couple of hours to get into the car parks at this stage.
The Festival has its own radio station, Worthy FM (wavelength 87.7FM), which often has traffic updates both before and after the festival so you can get a good idea of how long you are likely to be queuing for.
Later arrivals will find themselves parked anything up to a mile away from the nearest gate so be prepared for a long hike, possibly more than once. However, you will probably have the advantage of a quicker getaway at the end of the weekend.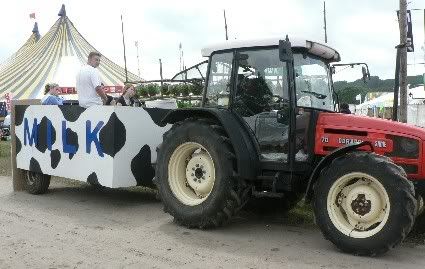 Warning - Although the actual festival site is cleared of the resident cows some weeks before the festival this isn't necessarily the case in the car parks so mind your feet!
If you are being given a lift to the festival by a friend or relative who isn't staying then please note that vehicles will not be allowed to stop on the road close to the festival site. The Drop-Off Point is at the Bath & West Showground, on the A37 south of Shepton Mallet, from where you are able to get a free shuttle bus to the Festival Bus Station. Alternatively make your way to the railway station at Castle Cary where all Festival ticket holders will be able to use the free bus service. If you are hitch hiking then please be very careful. The roads are narrow with few footpaths and the traffic can be very heavy.
By Campervan or with a Caravan
Campervan Drivers and anybody bringing a Caravan should approach via the "Blue Route" in order to access the fields specifically reserved for them to the east of the festival site. You will need to buy a permit in advance. These cost £50 in 2007 and are limited in numbers. Please note that you will not be able to sleep in your vehicle if you park it in the ordinary car parks.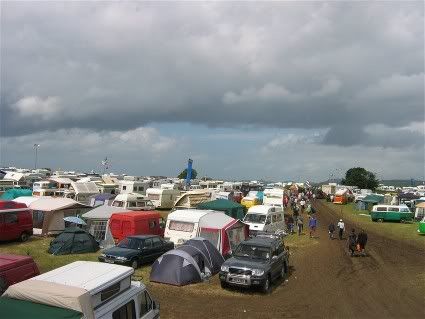 Photograph courtesy of mssoft
The Campervan Fields are one of the few parts of the festival that are positioned outside of the main fence. However, security in this area has been greatly enhanced since problems were encountered with non-ticket holders camping here and making a nuisance of themselves in previous years. You will have to queue each day to get into the festival and it can be a bit of a hike so it's as well to take everything you need for the whole day and use the Property Lock Ups to store anything that you don't want to carry around with you.
The rules as to what does & doesn't constitute a campervan and whether friends can camp with you seem to change every year so check out the information on the
Official Website
and keep an eye out for last minute changes in arrangements which invariably seem to happen. As a general rule of thumb you must have permanent cooking or washing facilities in order for your van to be allowed entry. Friends can usually camp with you provided they are able to pitch their tents behind your vehicle and within the allotted space. Awnings are allowed provided they are reasonably sized.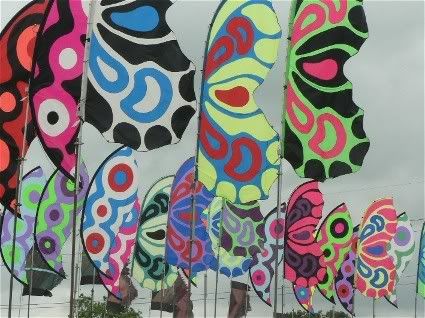 There are Toilet & Water facilities in the Campervan Fields although it has been felt in the past that these could do with being more widely available. Also please note that the "No Glass" rule applies as much in the Campervan Fields as it does in the rest of the festival site & your van may be searched to ensure that you have no bottles or glasses when you arrive. It's as well to leave any sharp knives that could be perceived as a weapon at home as well.
By Motorbike
There is secure parking for Motorbikes near to Gate A in the north western corner of the site. See
Hash4Cash's guide on taking a bike to Glasto
.
By Bicycle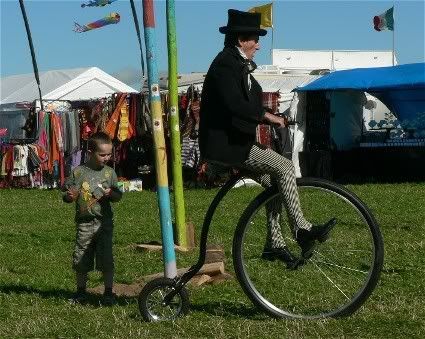 If you cycle you will be allowed to take your bike into the festival and use the Property Lock Ups to store it. Some people do actually use their bikes to get around the site although this does become difficult and rather dangerous once the paths & trackways become congested from the Thursday onwards.
By the way, I cheated a little with the photo above. It was actually taken at Solfest but it's one of my favourites.
What should I take with me?
There is a fairly comprehensive recommended kit list on the
Camping Advice section of the Official website
.
Wet wipes might sound a bit of an odd item to include but they are an absolute godsend if you don't fancy baring your dangly bits for a wash in full view of nearly 180,000 fellow campers.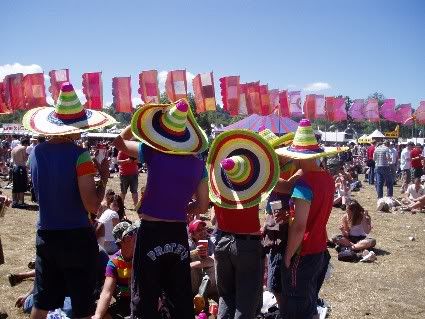 Don't forget sunscreen and a hat. The festival is held on the weekend immediately following the summer solstice so the sun is at its strongest and sleeping on rough ground with sunburn is no fun at all. On the other hand it can also get very cold at night so a good warm jumper or fleece is essential for those night time shenanigans up at the Stone Circle. Avoid denim jeans as they take a long time to dry if they get wet. You're much better off with cotton cargo pants which will dry quickly and they also have plenty of pockets for all your daytime essentials.
Always remember the age old festival goers' saying that "there is no such thing as bad weather - just inappropriate clothing!" As long as you have clothes that keep you safe when it's sunny, warm when it's cold & dry when it's wet then you will be fine. There are dozens of stalls selling all manner of clothing if you need to add to your festival wardrobe.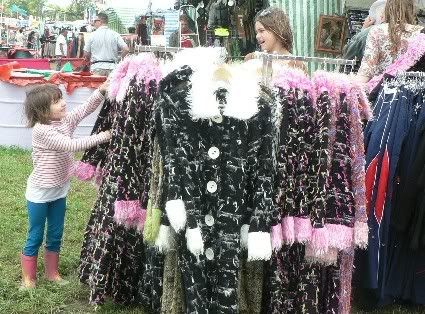 Personally I also enjoy a few creature comforts and would add things like a tent light and a camping chair but these are by no means essentials. Another handy addition is an empty fabric conditioner bottle which, because of the wide neck, makes a very adequate unisex in-tent toilet for when you get caught short & don't fancy having to get dressed to go marching in the rain to the nearest loo.
However the most restricting factor on how much gear you take is whether or not you will be able to carry it, which brings me on to.:
How do I carry my gear?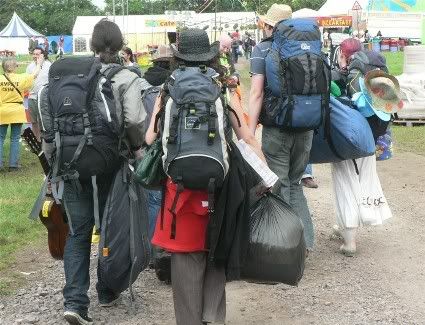 I just can't emphasise enough how BIG Glastonbury is. Remember that you could have to carry all of your gear a very long way up & down hills & over rough (and sometimes muddy) terrain. Possibly as much as 2 miles in each direction. So make sure that you have the means to transport your gear safely without bags splitting or you or your trolley collapsing. If you have a car then it is always better to make two or more trips than to end up stranded in the rain halfway between car and campsite with your gear strewn all over the ground.
I use an 80 litre rucksack which is big enough to carry my sleeping bag and more than enough clothes for a week. My rucksack has a waterproof cover which I can just slip over the top if it starts to rain. If you don't have one of these then make sure you pack everything into sealed plastic bags before they go into your rucksack so that if you get a soaking between the car and the campsite (as I have done in the past) you will at least be assured of having dry clothes and bedding when you've got your tent up.
A few years ago I also invested in this "Sack Truck":-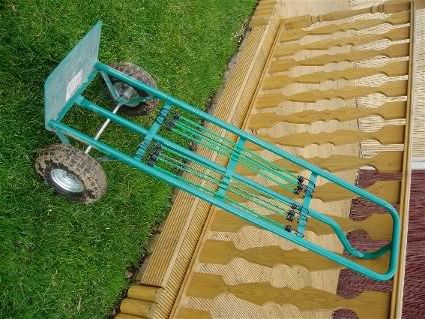 Note the large inflatable tyres which are a must for rough ground and a sturdy tubular steel construction. I got it from my local garden centre for the princely sum of £17.99. I have used this to carry a 5-man tent, a double airbed, a collapsible chair, all my other camping gear and 48 cans of beer with room to spare. It can also double up as a 3-seater bench or even a Heath Robinson shower if you strap a water carrier to it and squat underneath.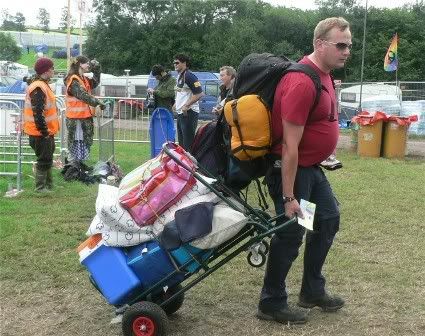 Other successful means of transporting gear are wheelbarrows or basically anything else that is sturdily constructed & has large wheels, but make sure you have plenty of rope, strong bungee cords or some of that industrial cling-film in order to hold it all in place over the humps & bumps. Sledges also seem to work well in wet conditions. Definitely out are wheeled suitcases, shopping trolleys, or lightweight, collapsible trolleys which I know from personal experience tend to collapse of their own accord just when you least expect them to.
What sort of tent should I buy?
If you're new to all this festival business then the most important thing that you will have to consider is your accommodation. There is a vast and bewildering selection of tents on the market these days. Most are the nylon dome or tunnel varieties with carbon fibre poles but they do vary hugely in size and quality and also, therefore, in price. Some will keep you safe & dry in the Himalayas whereas others are fit for little more than children's garden play tents. So make sure you buy one which is designed for the purposes for which you intend to use it.
There are an increasing number of instant "pop up" tents on the market which initially I felt were rather gimmicky and not for the serious festival camper. However some people do rave about them & they appear to be coming down in price so they may be worth considering if you are happy to sacrifice a bit of space for convenience.
Alternatively you could look into a more traditional frame variety or a canvas army style or bell tent. However don't forget that these are invariably far more complex to construct than contemporary designs and are much heavier to transport and carry to your campsite.
How much should I spend on my tent?
When it comes to buying a festival tent the cheapest option is very rarely the best. Admittedly there is a good chance that it will suffer a degree of wear & tear through cigarette and campfire burns, people tripping over guy ropes and getting it covered in mud & molten wax from flares. But I would nevertheless advise against viewing your tent as being a disposable commodity. My last one survived more than 30 different festivals and camping weekends over 5 summers and is still perfectly usable and weatherproof.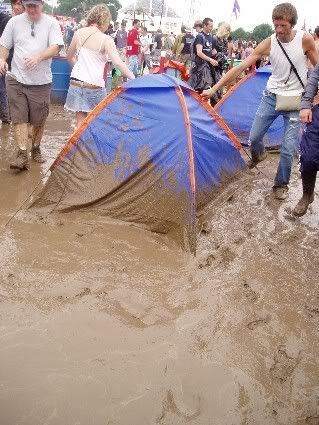 You will find many shops selling 2-man tents for as little as £15. But a cheap tent will invariably equate to flimsy poles, poor waterproofing, weak zips and insufficient anchorage and whilst these factors may not inconvenience you too greatly in fine weather, they certainly will if we get a repeat of the stormy and wet conditions that we have experienced at Glastonbury on numerous occasions in the past. There is nothing worse than waking up in a tent that has either leaked or collapsed in the night. It can literally ruin your festival. A little extra expenditure at the outset, however, will get you a tent that will keep you dry & should last several summers of festivals with relatively little maintenance.
How big should my tent be?
Your tent is your home for up to 5 days and nights so you are generally better off buying a tent that is roomy enough for you and your partner or companions to be able to sleep, store your gear & move around comfortably. I often have this "4 man" tent all to myself. It has a full 2 metre headroom and a living area that is big enough for several people to sit or stand. However once again don't forget that your ability to transport your tent is a factor in making your choice. There's no point buying a palatial tent if you are unable to carry it without giving yourself a hernia.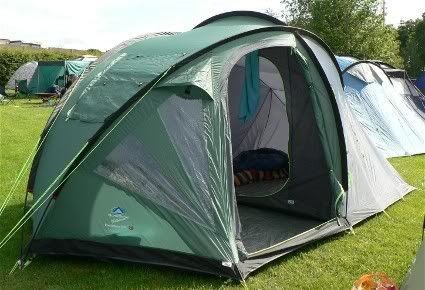 There is no size limitation regarding tents at Glastonbury but you should remember that if you are not arriving until Thursday evening or Friday then you will almost certainly struggle to find a patch of grass big enough to pitch a large family sized tent.
Tents are generally categorised by the number of people the manufacturers consider they should be able to accommodate. Don't believe a word of it! A 4-man tent may sleep a family with 2 small children in relative comfort but it certainly won't have room for 4 fully grown adults together with all their gear for a 5-day festival. Follow this general rule of thumb for the number of people that can comfortably be expected to sleep in each size of tent.
1-man is basically a nylon coffin. Avoid for festival purposes.
2-man sleeps 1
3-man sleeps 2
4-man sleeps 2 to 3
5-man sleeps 3
Most tents nowadays come with an outer "fly" sheet larger than the inner tent, thereby creating a porch at the front of the tent. This is useful for storing wet gear & muddy boots so you can keep your sleeping area clean & dry and it also gives you some additional space to move about inside your tent if the weather is wet.
What are 'Hydrostatic Head' and 'Sun Protection Factor' all about?
When you are searching the internet or browsing through camping shop brochures for tents you may well find reference to a tent's "hydrostatic head". In layman's terms this is basically a number that indicates how much rain a tent can withstand before it is likely to start leaking. The higher the number the greater a tent's waterproofing qualities. Look for tents that have a hydrostatic head rating of 2,000 or more and you are pretty much guaranteed to stay dry even if we see a repeat of the torrential downpours we've had at the last couple of Glastonburys.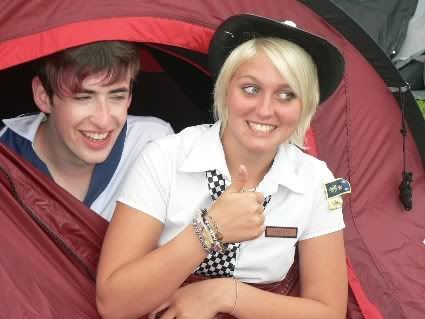 Some tents are also rated with a sun protection factor. Technically it is possible to get sunburnt inside a tent & much like the stuff you slop all over yourself on the beach this gives an indication of how many more times longer you are able to lie there without getting burnt than you would do in direct sunlight. To be honest I've never seen the point of this because if the sun is beating directly on your tent in late June then it becomes virtually uninhabitable by 8am so you're far more likely to roast than you ever are to fry.
What else should I look out for when buying a new tent?
Try to get a tent which is erected outer sheet first. My current festival tent has this advantage and it means that I can pitch it in a downpour without getting the inner tent wet. Once the outer tent is up and secured you simply clip the inner tent into place.
Look out for poor stitching both on the seams and also the anchorage points. Do all of the poles, zips, hooks etc. look man enough for the job?
Make sure the tent is well ventilated. A poorly ventilated tent will result in excessive condensation and subsequently damp clothes and bedding. Some come with a separate cowl that fits over the top of the outer tent to allow condensation to escape but make sure that you don't lose this or the top of your tent will be open to the elements next time you use it.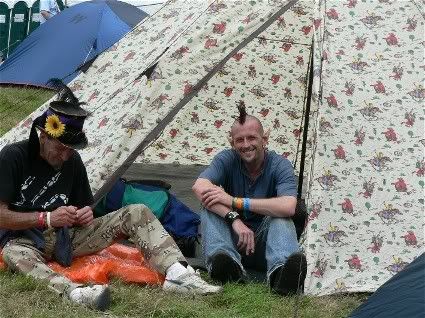 Windows are fine for getting additional light into a tent but they do tend to be the first place that leaks so best to be avoided unless the tent is very well constructed. You'll find that enough light will penetrate your tent during daylight hours to find your way about anyway.
Make sure that the pegs are a decent length. A lot of tents come with 6" wire pegs as standard but you'll find that these could well pull loose in high winds if the ground is soft. It would be as well to replace these with more beefy 9" pegs for the main anchor points around the outer tent. I've actually gone one step further and invested in some pegs which are effectively 9" nails with a plastic clip at the top to hold the guy rope in place. I've yet to find ground too hard for them at any festival & they certainly won't pull loose in a hurry either.
Fluorescent or luminous guy ropes are handy to prevent people tripping during the night.
Go on to page 2...
This page last updated: 01 September 2022
---


If you have a comment, please leave it in the
guestbook
. To contact Flash directly, complete
this form
.
Like this site? Buy me a drink!
This site moved from a fixed width to the current layout in 2009. Some older content such as photo sets may still have a fixed width. However if you notice any pages which are actually broken, please be kind enough to let me know via
this form
.
© Flash Wilson 1999-2010.
I charge a fee for use of my photos
.
---