Tort's Glastonbury FAQ
Updated January 2008
What about sleeping bags etc.?
Again there are a wide variety of Sleeping Bags available on the market and they are generally rated by the number of Seasons for which they can be used. A 1 Season Sleeping Bag will only be a lightweight bag designed specifically for camping in warm summertime weather whereas a 4 Season Bag is likely to be bulky but will keep you toasty warm in sub-zero conditions. You may find that some camping shops give an indication of the ranges of temperatures for which you will be able to use them in optimum comfort and also the maximum & minimum temperatures at which they could be used safely.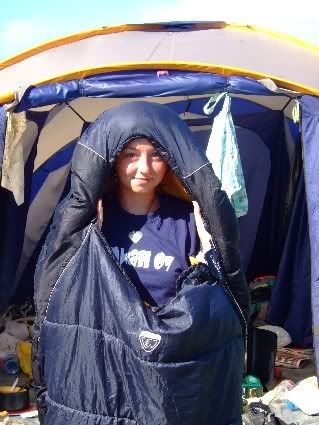 Don't forget that although Glastonbury takes place in mid-Summer it can still get very chilly at night and we have experienced temperatures very close to freezing in the past. A 2 or 3 Season Sleeping Bag would therefore be a sensible option. You can always put additional clothes on if you are cold or unzip the bag if you get too warm. You lose far more body heat into the ground than you do into the air so a camp bed, airbed, camping mat or blanket underneath your sleeping bag will add to the insulation as well allowing you to sleep more comfortably on rough ground.
Also bear in mind that weight is an issue so try not to buy a sleeping bag that is too heavy. Most modern bags come with a compression sack which allows you to squeeze the air out and minimise bulk in your rucksack. Make sure you have one of these.
Some people take duvets as an alternative to Sleeping Bags but naturally these are far more bulky and transporting them to your campsite can be a major headache if you don't have a proper waterproof bag to carry them in. My recommendation would be to leave your duvet at home & only use it for festivals where you can camp close to your car.
I feel that ordinary feather or foam pillows are far too cumbersome to bother with but you can get blow-up or stuff pillows from camping shops. Alternatively a folded jumper does the job just as well.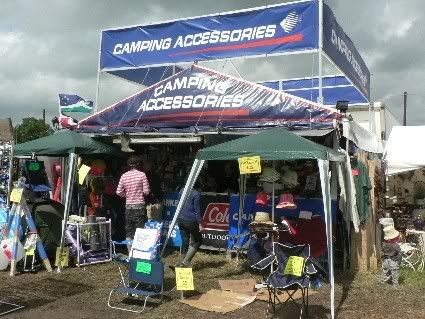 If you take an airbed make sure you also have something to pump it up with. Manual or Electric pumps are available fairly cheaply or alternatively you can get airbeds which have a pump incorporated into them. Some of the camping shops at the festival sell airbeds ready inflated but you then have to carry these to your tent which can be tricky if it's windy.
What other camping gear should I take?
A Mallet
Some Spare Pegs
String
Duct Tape for temporary repairs to broken zips and split poles
A Pen Knife, Scissors or a Multi-Purpose Camping Tool
A Water Carrier so you don't have to queue at the sinks to brush your teeth each morning.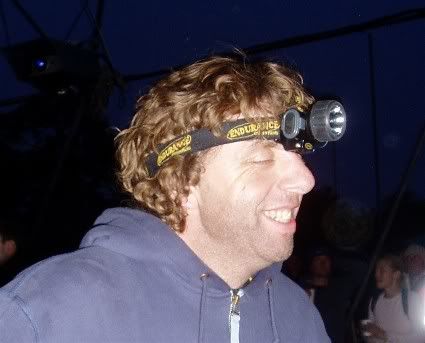 Don't forget that if you arrive at the festival in the evening it could take you several hours of queuing to get into the car parks and again at the entrance gates. You may therefore end up putting your tent up in the dark so a good torch is essential. If you don't have a spare pair of hands to hold the torch for you one of these head torches is useful, if not particularly flattering dancefloor attire.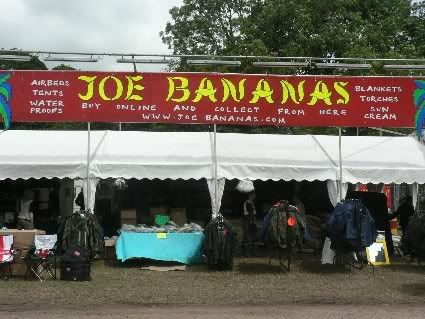 If you do manage to leave anything at home or if you need to make repairs to your tent during the festival there are camping shops onsite who should be able to supply you with most things you might need. Look out for the Millets, Joe Bananas, and Camping Accessories stalls dotted around the site. Prices are a little higher than you might find in your High Street camping stockists but certainly aren't extortionate. Joe Bananas also do a pre-ordering service so you can pick up your camping gear at the festival after you arrive. See
their website
for details.
Is it always muddy?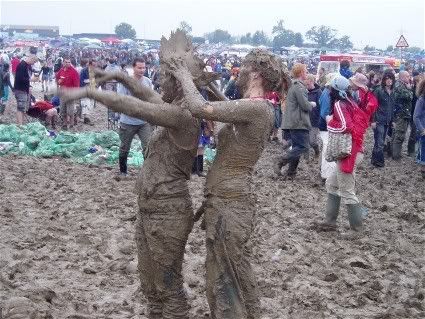 Only if it rains! We've been very unlucky in recent years. The 2007 festival coincided with the wettest June on record and in 2005 we had a storm of biblical proportions on the Friday morning which quickly turned the majority of the site into a quagmire and flooded quite a few tents. 2004 also got quite unpleasant at times but prior to that we hadn't had a significant amount of rain since 1998.
A considerable amount of money has been spent on drainage in recent years to alleviate the most severely affected areas. But the festival site is in a valley and so if it does rain heavily then gravity takes its inevitable effect. The ground on the flatter central areas tends to get very soggy and with nearly 180,000 pairs of feet stomping around it gets churned up quite quickly.
What is the most suitable footwear?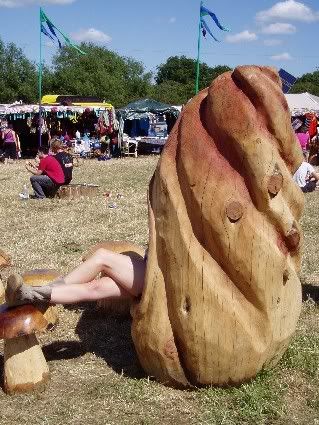 Unless you plan to chain yourself to the railings in front of the Pyramid Stage for the duration of the festival you will be doing a LOT of walking so whatever you wear make sure that your feet will be comfortable. Sandals are OK if the weather is fine, provided you don't mind getting your feet grubby & the odd stone between your toes. Many people wear trainers although personally I wouldn't expect anybody to share a tent with me if I wore them for anything up to 20 hours a day for nearly a week.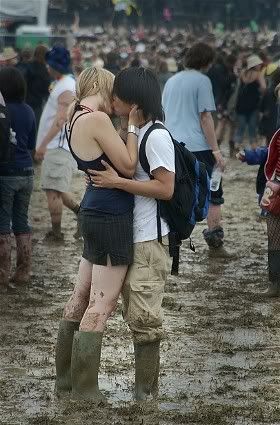 Photograph courtesy of Bob Rose
If the weather is at all inclement you are really going to suffer if you don't have a decent pair of waterproof boots. If you drive to the festival & it stays dry, you can always leave them in the car. A good pair of leather or gore-tex hiking boots will suffice for general purpose, especially if combined with a pair of gaiters when it gets wet. You can also buy ex-army boots onsite. But if you're not prepared to (s'cuse the pun) splash out on a decent pair of boots then forget fashion & make sure you take your wellies. Wearing plastic bags inside your shoes for several days will do your feet no good at all. Wellies might not be the most sexy attire but you don't have to look like Farmer Giles and the alternative is potentially going home with a mild case of trench-foot. Again, you can buy wellies onsite but be aware that the forces of supply & demand decree that prices rocket when it rains and the queues can be quite horrendous too.
Getting in - what happens at the gates?
Make sure that you have your ticket with you before you arrive at the festival site. It will be virtually impossible to find friends at the gates and you won't be allowed onto the buses or into the car parks unless you can prove that you are a genuine ticket holder.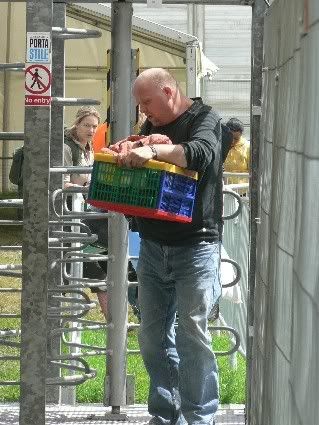 There are 4 Pedestrian Gates dotted around the fence and these are open 24 hours a day from 8am on the Wednesday morning. Gate A in the north-west corner serves the festival bus station. Gate B is predominantly used as a pedestrian access from Pilton village and the staff car parks to the north-east. Gate C is used as access from the majority of the eastern (blue) car parks & campervan fields and Gate D for the (red) car parks to the west.
Arriving on the Wednesday will mean that you shouldn't have to queue at the gates for any more than a few minutes but expect much longer waiting times if you arrive during the peak times of Thursday afternoon & evening.
When you reach the gates your ticket will be checked to ensure that you are the person whose photograph appears on the ticket.
Your bags might be searched before you are allowed to enter, to make sure you are not carrying any illegal drugs, weapons or glass bottles (See "Can I bring my own booze?" below).
You will then pass through a turnstile which allows the stewards to keep an accurate check on how many people are onsite at any one point in time. Don't worry if your gear is too large to pass through the turnstiles. The stewards will usually take it through a wide access gate for you and return it to you on the other side.
Can I get out again if I need to?
Yes you are free to come and go as you choose. There is a pass-out system which in recent years has consisted of a wristband, your ticket stub and a separate pass-out ticket. Do not lose these! When you return to the pedestrian gate there is a fast track lane for re-entrants so you don't have to queue up again with all the first time arrivals.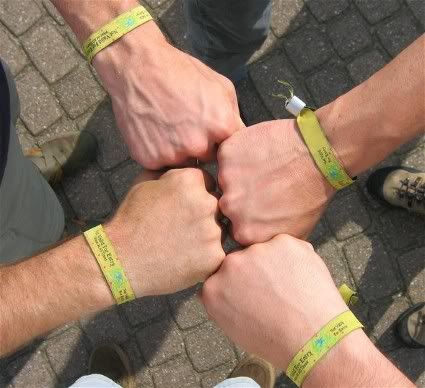 Photograph courtesy of mssoft
If you want to leave the site altogether you can use the free bus services to Castle Cary Station and the Bath & West Showground. There are also scheduled buses into Glastonbury town. However if you are driving beware that until Saturday you will be moving against the flow of traffic and it may take some time to get off-site.
How much are the programmes?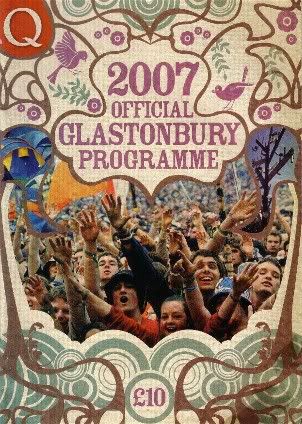 They are FREE! Or at least that is to say, they are included within the ticket price. When you get through the turnstiles you will be given a goody bag, which is a bit of a pain really because you will have more than enough to carry already and I really wish they'd introduce a voucher system so you can pick up your programme later at your leisure. Additional copies of the programme can be purchased from the Information Points around the site but they are quite pricey (£10 in 2007) so make sure yours is in the bag when you receive it & don't lose it.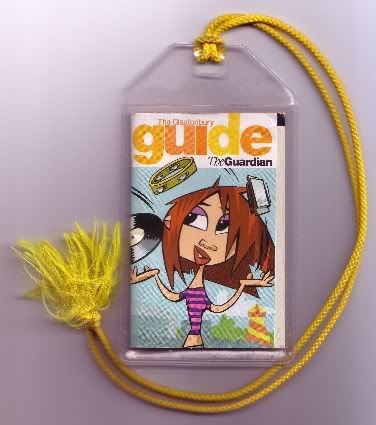 Also in the bag, you will receive a mini-guide which you can hang around your neck and which includes the line-up times for the main stages and a simplified map of the site.
The Festival has its own free 'Q Daily' newspaper which is available at Information Points and from distributors wandering the main arenas from Friday to Sunday. This will have reviews and photos from the previous day as well as details of any last minute alterations to the line-up. It will also include a few snippets of news from the outside world but don't always take these as being gospel!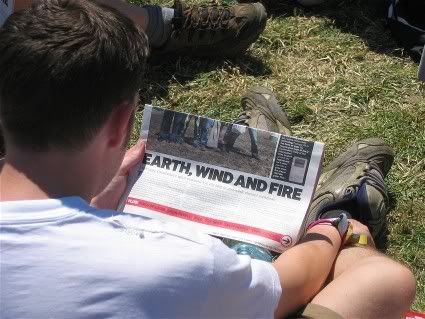 Photograph courtesy of mssoft
You can also get details of any changes to the line-up from the Festival Radio Station, Worthy FM (87.7 FM) as well as hearing music and interviews from some of the artists who are performing at the festival.
Finally on the Monday morning you can buy the Festival Review (cost £3 in 2007) which usually includes a large aerial photo of the festival to allow you to play "spot-your-tent". If you miss out on this before you leave it is usually made available at newsagents in the week following the festival.
Can I stay offsite?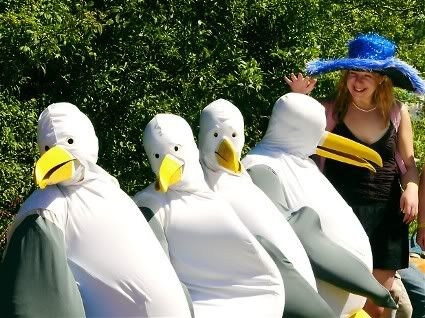 Photograph courtesy of Bob Rose
Are you mad???!!! Actually, I've been shot down before for suggesting people are a bit daft for not wanting to stay onsite so I'll put a small caveat in by saying that, unless you have some form of disability that means that camping is an impossibility, it is far too much hassle to stay offsite. All local B&Bs will be booked choc-a-bloc many months in advance and I have heard of people commuting daily to the festival from as far away as Bristol.
But on top of a fairly long drive don't forget that you will be parked in the outer car parks and will therefore probably have a mile walk to & from the car each day just to get to the gates. The main stages don't close until 12:30am so it's going to be well into the early hours of the morning before you get back to your accommodation. And you'll have to set off again by mid-morning if you want to catch the earlier entertainment each day. Add to that the security issue of wandering around car parks at the dead of night and all in all it doesn't seem like much of a good idea.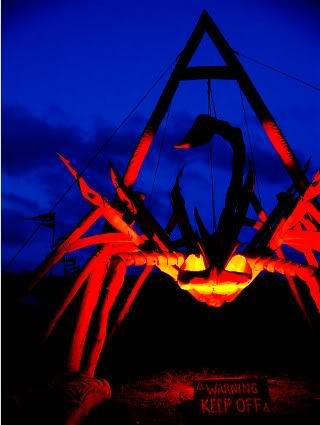 Photograph courtesy of Bob Rose
But the main reason for staying onsite is that if you don't you will miss some of the best parts of the festival. Areas like Lost Vagueness, Trash City and the Stone Circle don't start to come fully alive until after the bands on the main stages finish. The Brothers Bar is a pleasant congregating point & seems to stay open all night. And you get to meet so many great people just wandering around and stopping off at camp fires. There's a great community spirit and I for one love the feeling of getting in through the gates on the Wednesday morning & knowing that I don't have to worry about what goes on in the outside world until I leave again on the Monday afternoon. Camp! You know it makes sense.
Are the campsites separate from the Festival?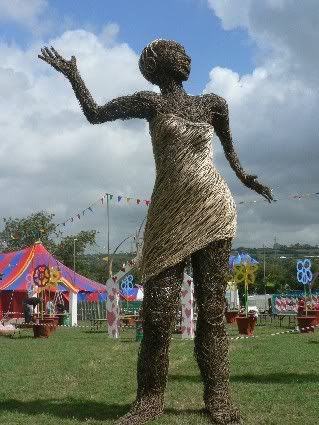 Glastonbury differs from "arena" style festivals like Reading and V in that, with the exception of the Car Parks, the Campervan Fields and the Tipi Village, the whole festival is within the main fence. Once you enter through the gates, you don't have to leave again until the Monday evening and you can pretty much wander freely wherever you want other than the backstage, traders' & crew areas. You are able to camp in any of the designated public camping areas provided they have not already reached their allotted capacity when you get there.
Where is the best place to camp?
This is probably the most Frequently Asked Question of all so please excuse me if I dwell on the subject for a while. I suggest that anybody who doesn't get excited by looking at lots & lots of photos of tents in fields might like to move right along to the next section at this point because over the last few years I have been for several tours around the site taking pictures in the various camping fields so that I can actually show you what they are like rather than having to describe them. Have a look at the
site map
for reference & we'll work our way anti-clockwise around the site starting in the top right hand corner.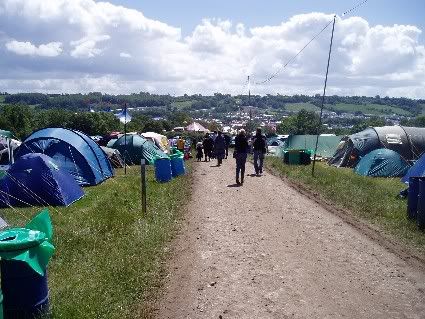 There is an area known as
Cockmill Meadow
in the north eastern corner of the site which is specifically reserved for
Family Camping
. There is no designated ratio of adults to children in any group so friends without children will be able to camp with you but please bear in mind that this area is popular and space is limited so people without kids in tow should look elsewhere. Also note that the field is traversed by a set of power lines which can hum & crackle quite alarmingly when it is wet.
Cockmill Meadow is entered almost immediately from Gate B but this is quite difficult to access for the majority so alternatively use the Eastern (Blue) Car Parks and enter the site at Gate C, turning right up the track that runs uphill between the Acoustic Tent and the Kidz Field. It's a long hike from the Western Gates A and D so people entering via those gates with their kids may find it more convenient to choose the alternative Family Camping area in Spring Ground.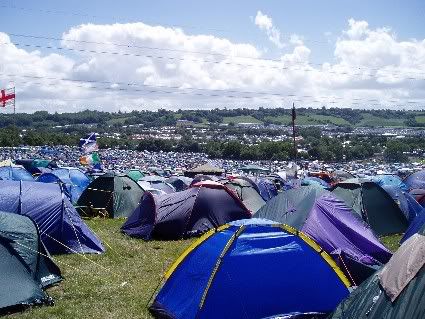 This Photo is taken from the top of
Big Ground
and also looks down over
Row Mead
to the right. These fields give the best access to the Pyramid Stage as well as some pretty spectacular views across the southern part of the site. You can also see the flatter area of
Kidney Mead
to the left, which is handy for the Cider Bus but is also close to some of the busiest toilets on the site.
Big Ground, Row Mead and the other fields on the hill that overlook the Pyramid Stage tend to fill up fairly rapidly as they are popular with those who like to watch & listen to the bands on the Pyramid Stage from the comfort of their tents.
Again Gates B and C to the East of the site probably offer the quickest and easiest access to these areas but they are also very accessible from the western gates.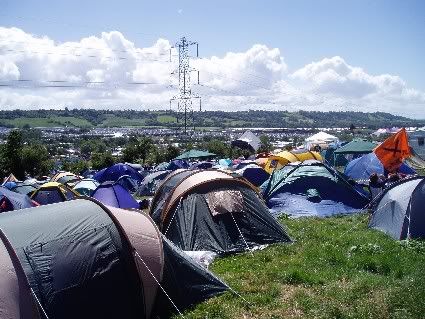 This is taken from the eastern end of
Home Ground
, near to the farm, looking toward the Pyramid Stage.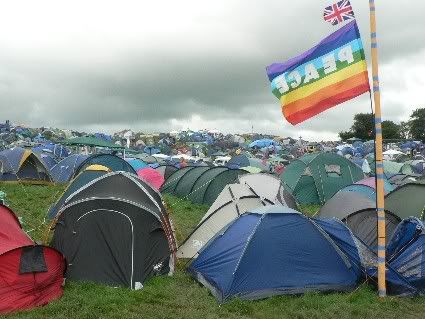 This is
Top Webb's Ash
looking up the hill towards
Michaels Mead
. Again, excellent views of the Pyramid and beyond but extremely steep toward the top of the hill.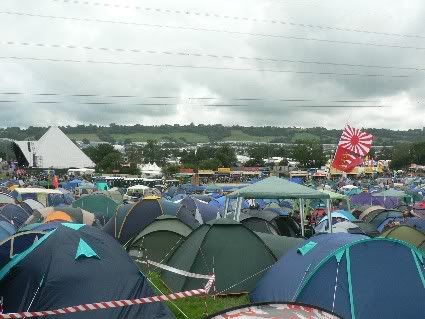 Bottom Webb's Ash
is flatter and as you can see it is very close to the action on the Pyramid Stage.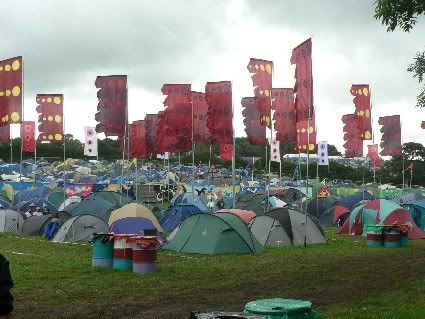 This is
Spring Ground
, which includes the
Disabled Camping Area
, and has a concrete ramp at the entrance to the field to make wheelchair access easier. The Disabled Camping area is reserved for people with permanent disabilities and their carers. Vampthing has done a special piece regarding Disabled Camping and the facilities available there as part of her
"Glasto On Wheels" guide
.
The top half of Spring Ground is set aside as a second
Family Camping
area for the convenience of those arriving by Bus or parking in the Western car parks and therefore entering the site via Gates A and D.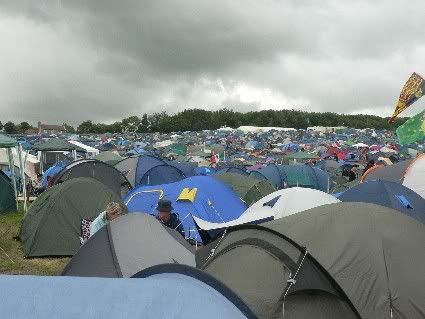 The fields at the extreme Northwestern end of the site between the farm and Gate A always used to be the last to fill up and there was always plenty of space. However even these were full by the Thursday evening in 2007. You'll have a great view looking south across the site but you will probably find yourself camped on quite a steep hill. The photo above is of
Hitchin Hill
.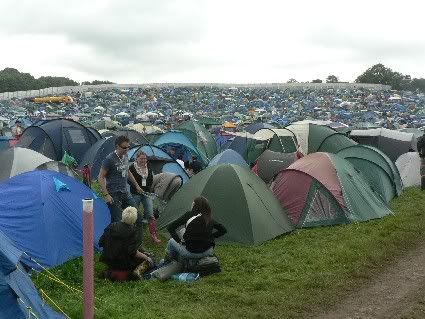 Next to Hitchin Hill is
Lime Kiln Ground
closest to the fence at the top of the hill, with
Wickets Ground
below the track which has become known as the "Pilton By-Pass". To access these fields, enter the site via one of the Western Gates A or D and head toward the Cinema Field before turning left up the hill to the camping fields.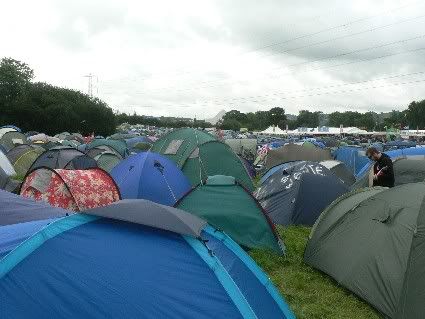 The first fields you come into if you enter via Gate A are
Woodsies
and
Lower Mead
, which are perfect for those who arrive by coach and want to get their tents up as soon as they get onsite. They are also very handy for those who enjoy watching the up & coming talent at the John Peel Tent. However please be aware of the fact that the Cinema Field is next door and the PA from this fires directly toward these fields with films showing until 4am so perhaps not an ideal spot for early-to-bedders.
The flattest camping areas can be found to the west of the site in the section bordered by the Dance Area to the north and the disused railway track to the south. Personally I find these areas rather soulless and tend to avoid them. Certainly it is noticeable how much more litter is left in these areas at the end of the festival so draw your own conclusions, and as they are low-lying they are the most likely to get muddy if it's wet. The photo above is of
Dance Field
with the flags and marquees of the Dance Area just beyond.
Oxlyers
gives very easy access to The Other Stage, Dance Area and John Peel Tent, as well as being a relatively short walk from The Pyramid and The Glade. It is also immediately accessible from Gate D so if you park your car in the Western Car Parks and you don't fancy a long hike with all your gear then this may be the place for you.
In order to accommodate the increase in numbers in 2007 the festival was required to include a large new camping area to the South West of the site. Because these fields were new and also covered a very large area they were the last to fill up and I would therefore advise people who do not anticipate arriving until Thursday evening or Friday in 2008 to set their sights on these fields. This is
Paines
which is actually the field that I used to park my car in before the site was extended. The bottom of this field used to be prone to flooding so probably best not to camp too close to the fence here.
The other new camping field in this area is the absolutely vast
Dairy Ground
which is one of the biggest single camping fields on the site now. It slopes gently and looked a very tempting place to pitch a tent when I visited Worthy Farm just before the 2007 festival. The furthermost parts of the field are however a very long hike from any of the major entertainment areas.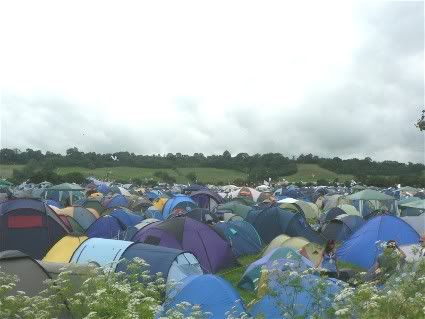 Home Park Ground
also slopes gently and has become increasingly popular over the last few years. It had the additional advantage in 2007 of having the new Park entertainment area toward the top of the field as well as being just a short hop over the disused railway track to the Other Stage Field and the Glade.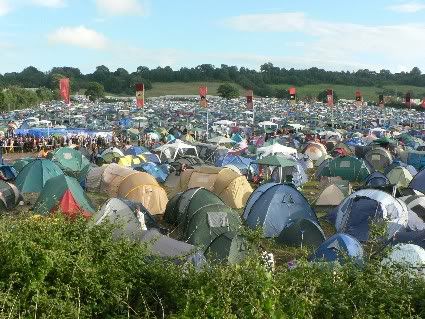 Also very popular is
Pennard Hill Ground
, which shares the same advantages as Home Park Ground and the two adjacent fields are often lumped together & simply referred to as "Pennards". In addition Pennard Hill Ground is right next door to the Greenfields and the Sacred Space with its all night partying at the Stone Circle.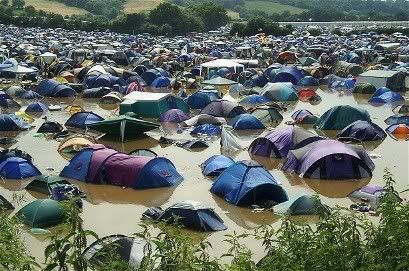 Unfortunately the bottom of "Pennards" is the camping area that suffered worst from flooding as a result of the massive thunderstorm that struck on the Friday morning in 2005. As you can see from this photo taken by Bob Rose the deluge flowed down the hill until its escape into the River Whitelake was blocked by the railway embankment at the bottom of the hill. Major drainage work was undertaken to successfully alleviate the problem prior to the 2007 festival.
Access to all of the camping areas to the South West is fairly handy for those using the Western (Red) Car Parks and entering via Gate D but is a long hike from all of the other gates.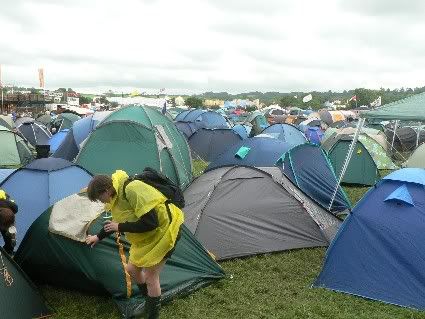 Holts
is dead central and therefore handy for most of the main entertainment areas, especially Jazzworld and the Other Stage. However it can be rather noisy with the Glade nearby and sound systems playing 24 hours a day in some of the market stalls that line the bottom edge of the field. A pair of earplugs is advisable if you intend to stay here & hope to get a decent night's sleep, although it certainly isn't quite so full on nowadays as it was the last time I camped there in 2000.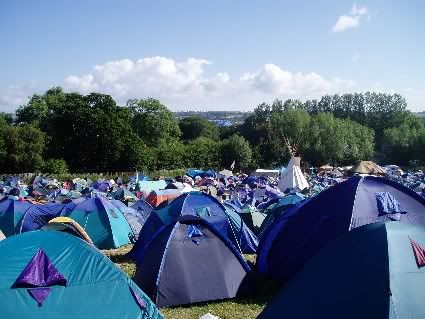 From a personal perspective I love the Greenfields camping area in the extreme south eastern corner of the site but with the expansion of Lost Vagueness and crew camping in recent years a large chunk of this area has become out of bounds to punters for camping. As a result stewards start turning people away from the only remaining camping fields in this area (Dragon and William's Fields) just a few hours after the gates open on the Wednesday morning!
The picture above is
Dragon Field
looking down toward Lost Vagueness. This has been home base for me for the last three festivals because, although it is relatively small and on a slope, the atmosphere is always fantastic. But you really do need to get there as soon as the gates open nowadays to stand any chance of getting in. The field was getting on for half full before the first punters even arrived in 2007 and was absolutely chockabloc by 11am on the Wednesday. Larger groups wishing to camp together should look elsewhere I'm afraid and don't forget that you will get noise here from Lost Vagueness pretty much 24 hours a day.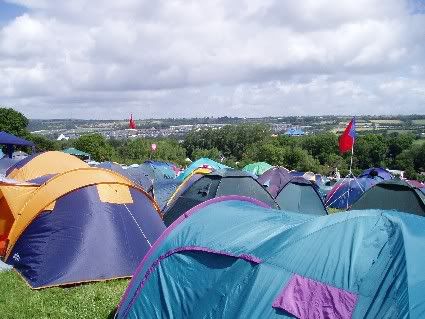 This photo is taken from the top of
William's Field
where I camped in 2003. You can just make out the Pyramid (to the left) and the Acoustic Tent (to the right) in the distance. It's a bit of a climb but well worth it for the views although unfortunately the best spots are fenced off for crew camping nowadays.
Access to Dragon & William's Fields is a fairly long hike from any of the gates but I prefer to head for the Western Car Parks, enter via Gate D, walk across Oxlyers and then just bomb along the disused railway track before hanging a right up the hill just before the turning into Lost Vagueness. If you are coming in from the East and entering via gate C then turn left, through the Theatre, Cabaret & Avalon Fields & then straight across at the junction when you reach the railway track.
How can I tell which fields still have space when I get there?
If you are still not certain where you want to head for when you arrive at the site then ask the stewards who should have up to date information as to which areas have already reached their maximum capacity. There are usually large maps of the site at each of the pedestrian gates and at the camping steward bases, with the fields that are designated as already being full shaded out.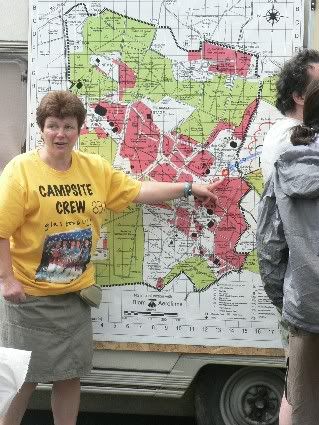 If you are told by a steward that a field is full don't try to sneak in anyway. The festival has been heavily criticised for overcrowding in the past and the resulting safety concerns have been an issue at the festival license hearings. So if you camp in a field that is already "full" you are effectively jeopardising the future of the festival.
Can I save space for my mates?
If you are hoping to camp with friends who are going to be arriving later than you then it is preferable to take their tents with you and put them up for them rather than try to save space. Many people frown on the practice of taping off areas and I have to admit that I feel that it is rather anti-social and goes against the tremendous community spirit that otherwise prevails at the Festival.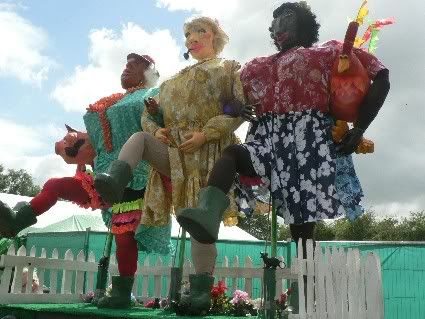 If you must tape off an area for friends who are arriving later, head for one of the less popular camping fields where space isn't going to be at such a premium. It would be polite to put up signs around your patch saying something along the lines of "Space saved for friends arriving Friday, Thankyou". Your neighbours are less likely to think you're just being greedy. Also make sure that the tape you use is highly visible to prevent tripping and don't tie it to your tent so that if somebody does trip over it they won't take your tent down with them.
Any other camping tips?
Before you leave home make sure you have at least one dummy run at putting your tent up and try to familiarise yourself with the process so that you can erect your tent without needing to read the instructions. Don't forget that when you get to the festival you may have to put your tent up in a limited amount of space and possibly windy or rainy weather. It could also be dark.
Even if you've used your tent before it's still a good idea to put it up before you leave home to make sure that it hasn't perished and that none of the parts have gone missing. Check the poles to make sure that none of them are starting to fray or split. Much better to replace them now than trying to hold them together with tape at the festival.
Try to pitch your tent away from toilets and pathways if you want to avoid smells & having your tent trampled into the ground. The metal pathways are great for getting around but they are also incredibly noisy if you camp near to them & the sound of feet clanking along them throughout the night will drive you insane.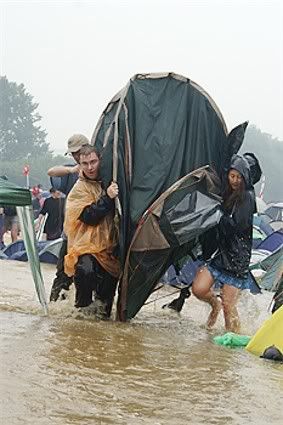 Photograph courtesy of Bob Rose
Remember that dips & gullies can potentially turn into ponds & streams in the event that it rains heavily and if you.ve pitched your tent in one of these areas then no amount of waterproofing will prevent your tent from being flooded.
If at all possible pitch your tent with the door facing downhill and/or away from the prevailing wind. This will prevent a pool forming in your porch if it rains or the wind gets up. It's also much more comfortable to sleep with your head pointing slightly uphill.
If you want to have a bit of a lie in every morning then try to pitch your tent to the West of trees, hedgerows or other large structures so that your tent is shaded from early morning sunlight. Alternatively some tents are made from reflective material and tend to stay cooler for longer. Others have openings at both ends in order to create a through-draft. Covering your tent with foil or pitching it under a gazebo, parachute or camouflage netting are other ways of keeping your tent cool & shaded.
Not all guy ropes are essential in anything other than stormy conditions and the more you have pegged out the more likely people are to trip over them & damage your tent.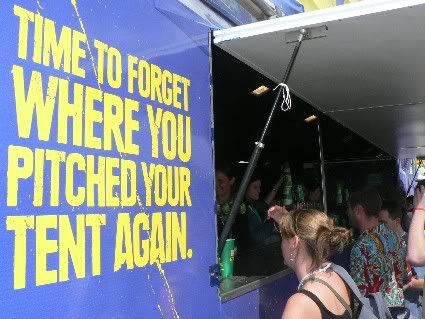 Remember that once you have put your tent up and go for a stroll the landscape may have changed considerably by the time you return, especially if you've included a visit to the Cider Bus or Brothers Bar during your tour. So before leaving your tent, make sure that there is a visible landmark nearby to use for navigating your way back again. Many people make their own flagpoles but try to think of something a little more original than the ubiquitous Cross of St George.
Can I stay in a Tipi?
Yes, special tickets are available for groups of 6 people who want to share the ethnic experience of living in a tipi for the duration of the festival. These cost £1,620 per tipi in 2007 (£270 per head) which sounds a lot but it does include the cost of admission to the festival so you are effectively paying £120 each for your accommodation.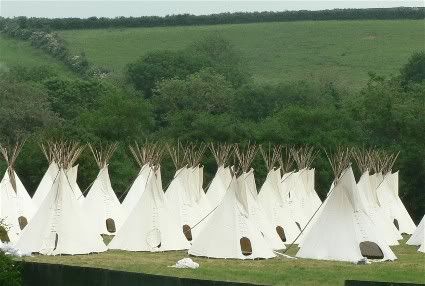 The original Tipi Field is only open to genuine tipi dwellers who bring their own homes with them. The hired tipis are now situated in 2 areas that were new to the festival in 2007. There is a Tipi Village (see above) which is actually outside of the main fence but is nevertheless still secure and is accessed via a temporary bridge over Pylle Road to the East of the festival site. There is also the Tipi Park which is inside the fence and situated on the hillside overlooking The Park area to the South of the site.
Security - Is there much crime?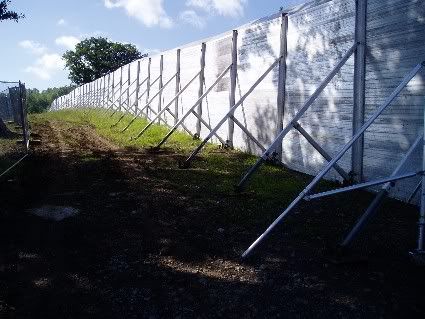 Crime at Glastonbury is now at an all time low and that is predominantly down to the Super Fence. Admittedly, before the fence was introduced in 2002, as many as 100,000 "fence jumpers" would get into the festival without paying, and unfortunately a good number of these people came with the sole intention of helping themselves to everybody else's belongings while they were away from their tents. In 2000 I lost count of the number of times I returned to my tent to find it had been ransacked and there were many instances reported of tents being slashed or even being completely removed together with their contents.
However the introduction of the fence and much better security both around the site, in the car parks and also in the neighbouring villages, has all but eradicated one of the issues which seriously threatened the very existence of the festival.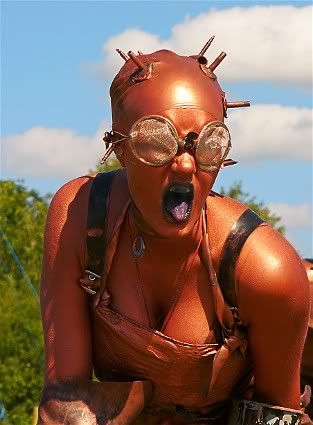 Photograph courtesy of Bob Rose
Nowadays you can be fairly safe in the knowledge that it is unlikely that you will fall victim to crime at the festival. But it is still worth following a few basic Dos & Don'ts to make sure that the risk is minimised:-
Don't take anything that you can't afford, or wouldn't want, to lose.

Don't leave anything visible in your car and open the glove box to show it is empty.

Don't leave anything valuable or attractive to thieves in your tent.

Don't padlock your tent. This is an advertisement to any thief that there is nobody home & there is something worth pinching inside. A padlock is no protection against a knife and then you've got your tent ruined into the bargain as well.

Don't keep all your money in one place. Use several wallets so that if you do lose one it won't completely ruin your Festival.

Do use the Security Lock Ups.

Do get to know your neighbours, look out for one another and report anything suspicious to the police or campsite stewards.

Do take all of your gear out of your bags as soon as you set up camp. Thieves are opportunist and if they can't grab a bag & run within a couple of seconds they generally won't bother. If you are leaving cans of drink in your tent then take them out of their packaging & spread them around.

Do keep your valuables in your sleeping bag at night. Many people have woken to find their tent open & their trousers missing together with their wallet, camera, car keys etc.

Go on to page 3...
This page last updated: 01 September 2022
---


If you have a comment, please leave it in the
guestbook
. To contact Flash directly, complete
this form
.
Like this site? Buy me a drink!
This site moved from a fixed width to the current layout in 2009. Some older content such as photo sets may still have a fixed width. However if you notice any pages which are actually broken, please be kind enough to let me know via
this form
.
© Flash Wilson 1999-2010.
I charge a fee for use of my photos
.
---