Tort's Glastonbury FAQ
Updated January 2008
What are the Security Lock Ups Like?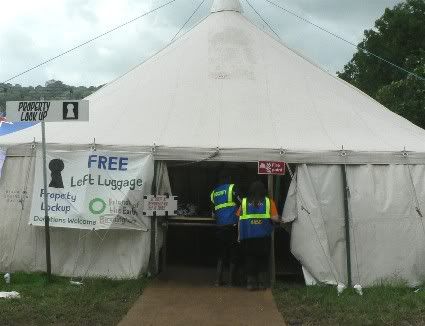 There are about 10 Security Lock Ups dotted around the site which can be located by looking for the keyhole symbols on the Site Map. They are basically large steel cages housed inside marquees. They are free to use although a donation towards the charities that run them would be appreciated. They operate a ticket retrieval system but will also ask for details of your name & address in case you manage to lose your ticket & so that they can verify that you are the genuine owner of the stuff you leave when you come back to collect it. The picture above gives you a good idea of what the Lock Ups look like. You can store anything in there from a camera to a bicycle.
How easy is it to find your way about?
Getting lost at Glastonbury is all part of the fun and in all honesty there are some parts of the site where I still have to think twice about which way I need to go in order to get to my desired destination. If you do end up going slightly wrong then the chances are you'll stumble across something random & unexpected so it's never really a massive deal.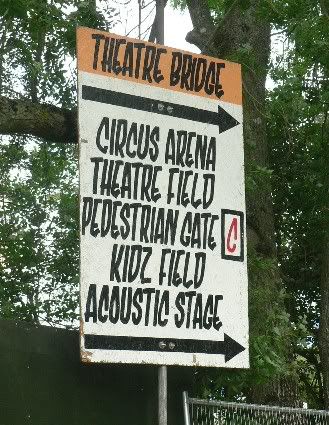 If you really do get seriously lost then there are signposts at all of the major junctions of the tracks that criss-cross the site and you have the simplified map in the mini-guide you hang around your neck to put you back on track. If you still have no idea where you are then just find your way to the nearest Information Point where they have far more detailed maps available for your convenience and the staff will be able to show you exactly where you are and give you directions on how to get to wherever it is you want to be.
There are a few landmarks such as the Pyramid Stage, the Acoustic Tent, the Leftfield Tower and the pylons which are visible from around the site and can be used as navigation beacons. Remember that the Pyramid and Other Stages face away from one another and share the same backstage compound, so to find your way from one to the other is simply a matter of following the tracks around in a large circle.
As far as the rest of the site is concerned there are 3 major thoroughfares which are handy for getting quickly from one part of the site to another. The disused railway track crosses the festival from east to west, so as long as you can find your way there then places like the Other Stage, the Glade, the Greenfields, Jazzworld and Lost Vagueness are very easy to find.
Photograph courtesy of Skeeewhiff
Similarly there is another track that runs perpendicular to the railway from the Sacred Space and the Greenfields, past Jazzworld and Trash City to the main market area, Leftfield and the Meeting Point. It actually continues as "Muddy Lane" up past the Kidz Field and through the Cockmill Meadow Family Camping area to Worthy Farm and Gate B, although a section of this was restricted to vehicle access in 2007 and out of bounds to pedestrians for safety reasons.
A third track runs from the side of the Pyramid Field past the Cider Bus, Leftfield and the Acoustic and Theatre Fields towards Gate C.
Can I bring the kids?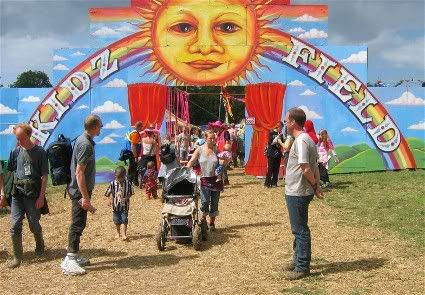 Photograph courtesy of mssoft
Personally, Glastonbury is one Festival that I never took the Tortlets to when they were younger because it's during school term time. But many of those that do take their kids reckon it is among the best festivals for children to attend. In addition to the designated Family Camping areas the kids also have their own entertainments field where there are plenty of things to keep them occupied as well as appearances from the likes of Bodger & Badger.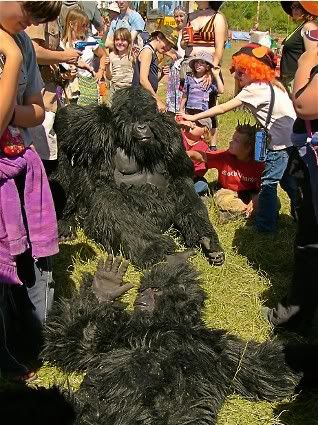 Photograph courtesy of Bob Rose
Entrance to the Festival is free for children aged 12 and under. Over 12's pay full price I'm afraid but special provisions are usually made for families with older children so that the normal restrictions in the number of tickets you can purchase are slightly relaxed in their case in order to allow older children to attend with their parents.
There's lots of additional useful advice on taking kids to Glasto
from Jonajuna
.
How much money will I need?
It is still possible to do Glastonbury relatively cheaply. You can certainly survive on very little if you bring your own food and drink or shop around and I know several people who tell tales of having got through Glasto without having two beans to rub together. Personally I look at it as being a bit of a holiday and push the boat out. See below for details of food & drink prices, but additionally there are several hundred stalls selling anything from Drums to Didgeridoos, from Whips to Wedding Dresses and from Sunglasses to Steamboats (well OK miniature ones!) so it's very easy to be tempted into taking a little something home as a memento & I've often spent the Monday scouring the stalls for a few presents to take home for the Tortlets before I pack up & leave.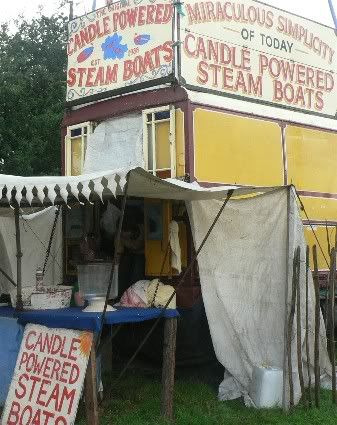 I usually take something in the order of £300 with me for 6 days but often bring a fairly big chunk of this home again. Many of the stalls will accept credit cards. Some may also allow cash-back provided you purchase something from them in the same transaction.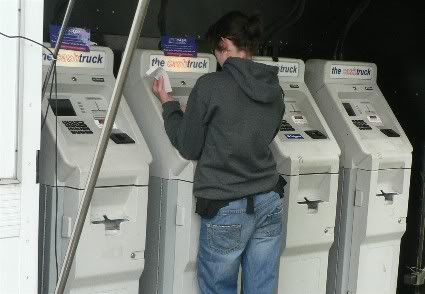 If you do run out of cash there are 4 sets of cash machines on site. There is a "Bank" which is situated close to the farm at the northern end of the site. The other machines are spread around the festival site and their positions are indicated by the letters "ATM" on the site map. However be warned it can't always be guaranteed that all of the cash machines will be in operation all of the time and I have heard stories of people queuing for 4 hours to use them! It's also a sensible precaution not to visit the cash machines alone.
More details on money matters at the festival can be found
on the Official website
.
What's the food like?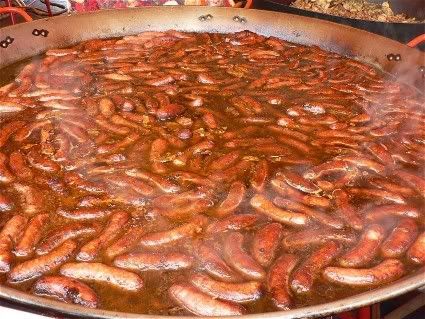 Absolutely fanbloodytastic!!! If you're under the impression that all festival food is burgers & chips then you are in for a very pleasant surprise. There are nearly 400 catering stalls onsite and these are all selected by the organisers for their diversity. Personal favourites of mine are La Grande Bouffe (see their wonderful herby French sausages above), The West Country Venison Stall, Good Thai Dins, and Leon's Vegetarian Cuisine, all of which are usually fairly close to Yeoman's Bridge on the main track between Leftfield & the Greenfields.
Prices for the most part are similar to what you would find at other festivals, maybe slightly cheaper in some instances. A main meal will generally cost you something in the region of £6 to £7 but if you seek out some of the vegetarian cafes in the Greenfields you can eat considerably cheaper. The Hare Krishnas do free food although a donation for their generosity would be appreciated.
Most of the food stalls have some sort of seating fairly close by to allow you to perch while you munch. Alternatively, for additional comfort and indoor dining visit the Tiny Teas Tent, the Common Ground Cafe in the Acoustic Field (pictured below), the Avalon Cafe, or one of the many other cafes dotted around the site.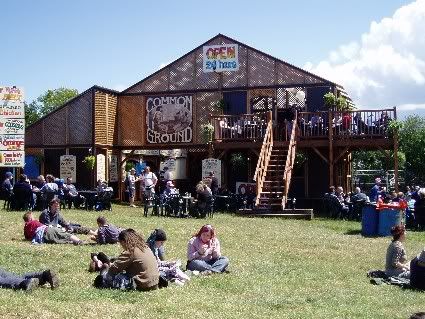 All food is served on bio-degradable paper plates and with wooden cutlery. The festival also insists that all tea and coffee served by the traders is of Fair Trade origins.
Can I drink the tap water?
Yes. The water at all the wash basins and standpipes is drinkable and the quality of the water is checked regularly throughout the Festival to make sure there are no nasty bugs in it. You might find it has a slightly more chemical taste than what you are used to as they do take extra precautions against contamination but this won't do you any harm whatsoever.
More details on the Festival's water supply can be
found here
.
If you really can't face drinking the tap water then local Glastonbury spring water is available at reasonable prices from stalls around the site. The bars will charge you considerably more!
Alcohol - What's the deal?
And so we reach my favourite subject...
The best thing about drinking at Glastonbury is that although there is an element of commerciality creeping into the Festival, no one mega-brewer has a monopoly in the same way as Carling do at Reading & Leeds or Tennant's at T in the Park, so there is a much greater diversity of choice. Thankfully there is none of that nonsense of having to buy tokens for your drinks that you get at other festivals either. Closing times vary but most are extended beyond normal pub hours and a few of the bars remain open well into the early hours of the morning. The festival is actually licensed to serve alcohol until 5am.
There was a lot more attention paid to underage drinking in 2007 and anybody who appears under the age of 21 may well be challenged by Security as they enter the bars. So if you are lucky enough to be under 21 or appear younger than you actually are then please make sure you have proof of your age. To those who are underage please be aware that the same licensing laws apply at the festival as they do anywhere else in the country.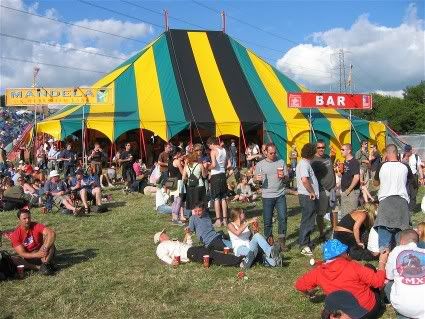 Photograph courtesy of mssoft
The main bars, and there are at least 10 of them dotted around the site, are run by the Workers' Beer Company (WBC) and are staffed by volunteer Trade Union members raising money for their causes. Many are open from the Wednesday lunchtime onwards. The WBC bars are sponsored by Carlsberg, however anybody who is concerned by this apparent commercialism needn't be overly worried. The sponsorship isn't particularly intrusive & you won't notice much other than some low key branding at the bars and on the paper cups in which your drinks are served.
The WBC bars will serve you a fairly standard selection of drinks.
Examples of prices for 2007 were as follows:-
Carlsberg £3:20 a Pint

Guinness £3:50 a Pint

Cask Bitter £3:00 a Pint

Smirnoff Ice £3:20 a Bottle (plastic)

Vodka & Mixer £3:20 Single / £5:00 Double

Wine £3:50 a 120ml Glass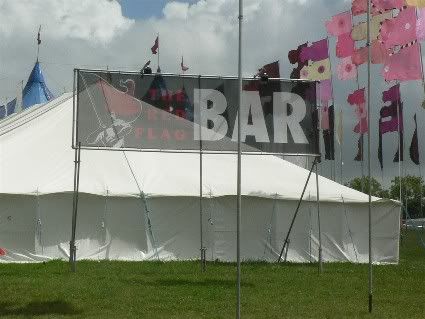 There is only one real ale available at the WBC bars which in recent years has been the very wonderful Wherry Bitter, by Woodfords of Norfolk. As a card carrying CAMRA member however, my advice to all ale drinkers is to head for the Red Flag Bar in the Acoustic Field where they serve a really good selection of a dozen or so beers, all kept in tip-top condition. Unfortunately this is one bar that tends not to open until the Thursday evening.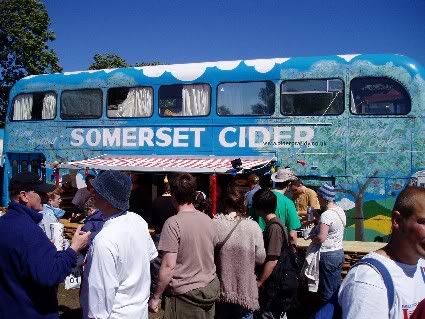 Being in Somerset you have to try the Cider (£3 a pint) from the Burrowhill Cider Bus, which is situated just off the main market area near to the entrance to the Pyramid Field. We're not talking your pasteurised, fizzy Strongbow variety here. This is the proper stuff! They serve a choice of Dry or Medium varieties direct from huge wooden barrels, plus the Hot & Spicy (mulled) cider (£3.50 a pint) is a must on a cold or damp evening. They also do an apple brandy for those who seriously need to warm the cockles.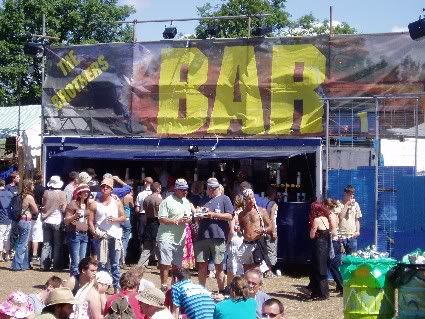 Also check out the chilled Pear Cider (Perry) from the Brothers Bar in the Jazzworld Field, which is brewed just down the road in Shepton Mallet. You may have seen this stuff available in your local supermarket but it is often a reduced alcohol variety. At 7% ABV the "festival strength" version kicks like a mule. Beware, it is very easy to completely lose the use of your legs drinking this stuff, which is probably one reason why I seem to spend more time in Jazzworld than elsewhere!
In 2007 this nectar would cost you between £3 and £3:50 a pint depending on when & where you bought it. Strawberry, Lemon & Cranberry flavoured varieties are sometimes available in addition to the standard pear. It is also usually sold in 2 litre bottles, although these were not available after the Thursday in 2007 for reasons that were never really clear. I suspect the appalling number of empty bottles that were just left lying around on the grass may have had something to do with it. You can also buy Brother's in some of the WBC bars although I understand that this was the lower alcohol variety.
There are several wine bars dotted around the site. Keep an eye out for the big green inflatable bottles. Or if you want to go really upmarket the Ballroom in Lost Vagueness serves bubbly by the glass or bottle as well as cocktails.
You'll also find there are plenty of rogue traders wandering around selling cold cans of lager, tequila slammers and vodka jellies. They aren't licensed by the festival and are therefore effectively trading illegally but it's all part of the (ahem) spirit of the place.
Can I bring my own booze?
Unlike other large festivals you are allowed to bring your own booze. It will probably say that you can't on the back of your ticket but this is basically a licensing condition. The only restrictions are that you can only bring in "enough for personal consumption" and that you must not bring any glass. If the security at the gates find glass bottles in your bags they will be confiscated. They aren't particularly heavy-handed but please don't try to smuggle bottles in. There is a very good reason for the No Glass rule. Think of the cows who have to live on the site when we aren't there enjoying ourselves and how much damage broken glass could do to them.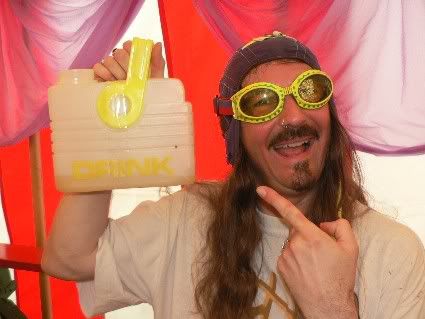 If you want to bring spirits make sure you decant them into plastic bottles first and buy wine in boxes.
How much is "enough for personal consumption"?
There is no set limit. What they are trying to do is prevent people bringing large amounts of alcohol onsite to sell on illegally at an unlicensed profit.
I've got in through the gates with 48 cans on my trolley in the past without any difficulty. But don't forget you may have to walk anything up to 2 miles from car to campsite so you will also be restricted by how much you can carry over that sort of distance. If you are driving you can always return to the car to top up supplies over the weekend.
Note that there are no shops selling alcohol within walking distance of the site and the local pub is closed for the duration of the Festival.
What if I forget to bring something?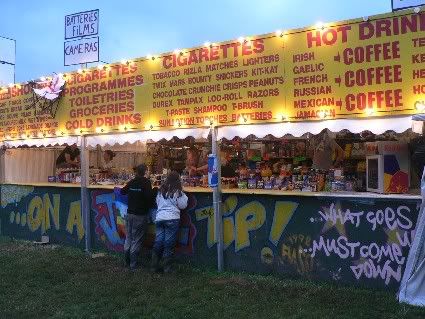 Don't worry! There are very few shopping facilities within walking distance of the festival but there are several General Purpose stalls onsite. They might be a little more pricy than your local Tescos but they are extremely useful for replacing those everyday commodities that you somehow managed to leave at home or run out of during your stay.
Are the toilets really that bad?
Ask anybody who has been going to festivals for as long as I have and they will almost certainly tell you that the toilet situation is vastly better now than it was in the past. The "Pyramid of Poo" that was a regular feature of Festival Toilets is thankfully no more than an unpleasant memory these days. Certainly Glastonbury lays on considerably more in the way of toilets than it is legally obliged to for the number of people onsite and these are all emptied & cleaned on at least a daily basis.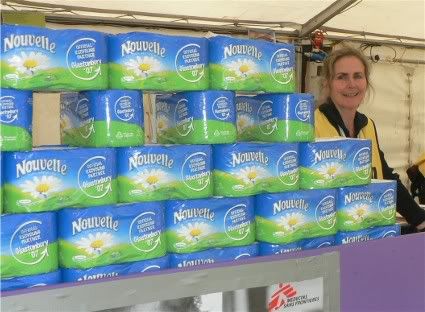 Toilet roll is provided in the loos but this will often have run out or have been pinched by the time you get there so it's a good idea to carry a small supply of your own at all times in case of emergencies. Free toilet rolls are available from the Information Points and Property Lock Ups but please only take as much as you need and give a small donation to the charities they are collecting on behalf of if you can.
I don't want to sound like your mum but please make sure you wash your hands after visiting the loos. Dodgy tummies at festivals aren't much fun & are far more likely to be caused by dirty hands than by poorly prepared food. There are wash basins near all of the toilet blocks although I prefer to carry a small bottle of the alcohol based hand sanitizer gel that you can buy in chemists nowadays and which claim to kill 99.9% of all germs.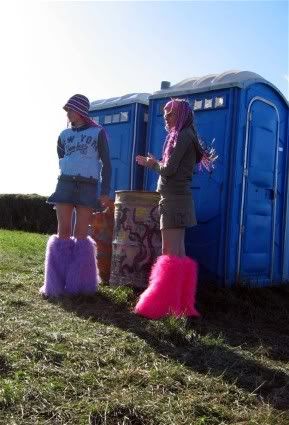 Photograph courtesy of Wiskey
I'm sure everybody will be familiar with the portaloos or "turdis" but I avoid them because they do tend to kick up a bit in the hot weather.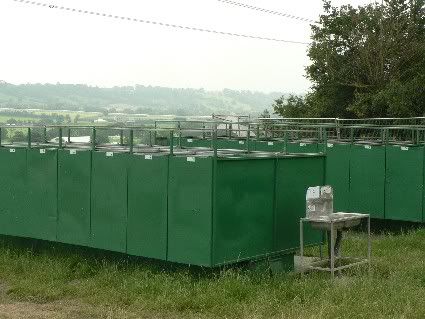 These are the infamous "longdrop" toilets which are basically a row of seats over a large pit. Much less smelly and if you time your visit to shortly after they've been cleaned, a not too unpleasant experience at all. Some of the doors don't have locks on them but it's easy to see from the dangling feet which ones are occupied. And in case you were wondering, the myth that occasionally people fall in is completely untrue.
The tanks on which the longdrops are sited are permanent structures and are therefore only situated on land which is actually owned by Michael Eavis. Other areas have similar arrangements known as "highdrops" which are accessed via steps with the tank above ground level.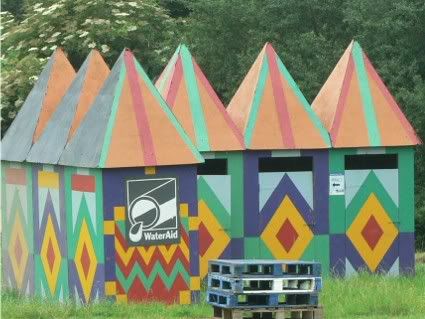 These are the African toilets at the entrance to Kings Meadow. They are brightly painted but very basic. Inside you will find nothing more sophisticated than a hole in the ground which you squat over to do your business. You are expected to clean up after yourself if your aim isn't true.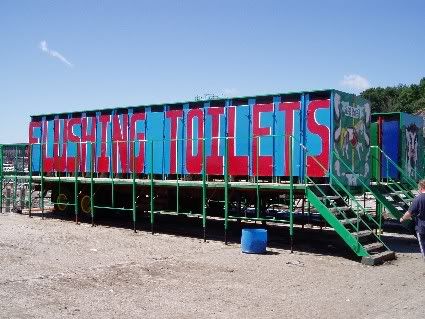 There are some proper flushing toilets to be found up by the farm. But I reckon this is cheating!
Photograph courtesy of Vampthing
This is an accessible toilet for disabled people, located in around a dozen spots throughout the site. Please, do not use them unless you are physically unable to use any other toilets. It may seem tempting, especially if there is no queue, but there are hundreds of disabled people on site who cannot use any other toilets. Imagine how they feel after going all the way to an accessible loo to find it unusable because it's been used by others. In past years this has been so bad that disabled people have had to return to the campsite every time they need the loo! So please leave these for others who have no alternative.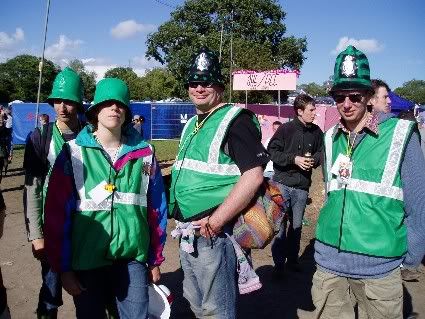 With a toilet block in virtually every field and urinals close to all the bars there really is no excuse for pissing in the streams or the hedges. But people still do and as a result the Festival has been prosecuted and fined for polluting the water courses. Nowadays the Green Police are on the look out for offenders, so unless you want to risk being shamed & embarrassed by them - Don't Do It!
Can I have a shower?
Most people tend not to bother to be honest. Certainly I normally make do with wet wipes and my D.I.Y. shower in the campsite. There are, however, 3 sets of showers to be found onsite. You may find that some of the showers are communal & don't offer the degree of privacy that you may be accustomed to.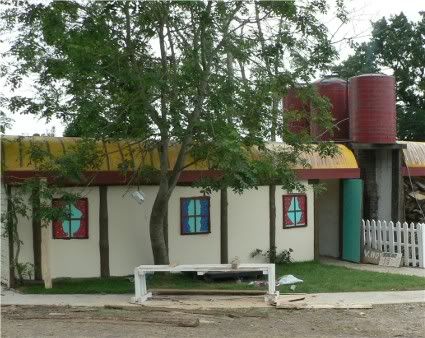 These are the showers which are to be found at the entrance to the Kidz Field. This photo was actually taken a couple of weeks before the punters arrived in 2007. Expect to queue for some time to use these during the festival, especially at more popular times of the day.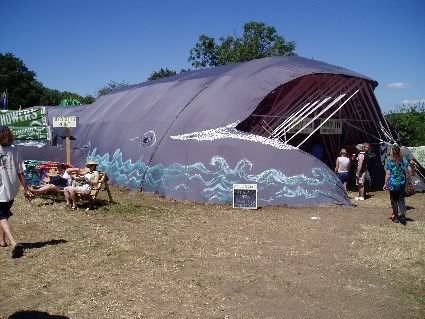 This impressive structure is how the Greenpeace showers looked in 2004. Less of a queue here as they operate an appointment system and you are asked to come back at your allotted time.
In 2007 additional showers were provided near to the Farmhouse, although the only person I spoke to who used them told me they were cold.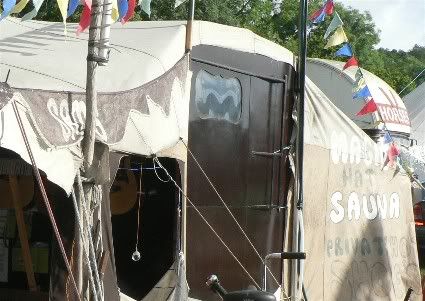 You can also have a shower at one of the several saunas which are dotted around the Greenfields. I took the opportunity of using Sam's Magic Hat Sauna for the first time in 2007 and came away feeling like a new man. They work on a donation only basis but be careful because that sauna really is incredibly hot!
Please don't take things like soap, shampoo & shower gel with you to the showers. You will be supplied with biologically friendly versions to use when you get there. All you need is a towel.
Please also note that there is nowhere for you to plug in your hair straighteners - and yes the question has been asked in all seriousness in the past!!!
What facilities are there for the disabled?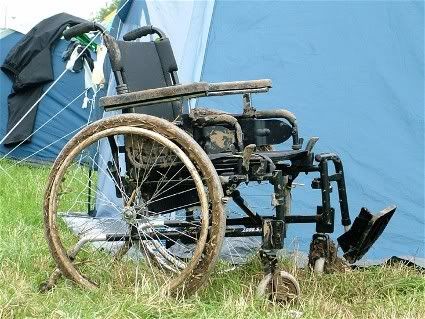 Photograph courtesy of Vampthing
A dairy farm certainly isn't the easiest place to get around for the able bodied so I'm afraid all I can do is express my total admiration for those who don't allow their disabilities to prevent them joining in the fun at Glasto.
There's a page of information regarding facilities for the disabled
on the Official website
. Vampthing also has some excellent first hand advice for disabled visitors. You can find this in her
"Glasto for the Disabled" Guide
.
What medical facilities are there?
There are 2 medical centres onsite and it is fair to say that, if you are unfortunate enough to need it, you will receive much more prompt medical attention at Glastonbury than pretty much anywhere else in the country.
If you are pregnant or have a serious medical condition it would be as well to report to the medical areas as soon as you arrive so that they have a record if anything does go wrong.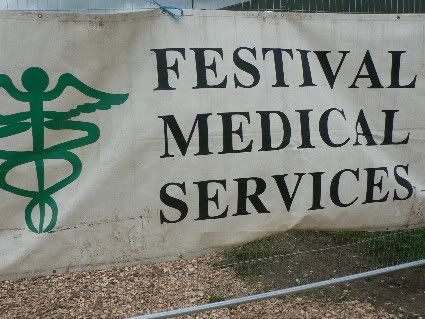 Unfortunately with a population of a City the size of Norwich or Sunderland it is statistically inevitable that there will be fatalities at the festival pretty much every year. However, despite the festival's hedonistic reputation, remarkably few of these are drugs related. If you do feel that you have overdone things don't worry about seeking medical assistance. Better to be safe than sorry and it is unlikely that you will find yourself in any trouble with the law.
There are additionally 2 Welfare Centres which are positioned at Worthy Farm and in the Greenfields. The Samaritans are also on hand for those who require moral support during the festival. Other stalls offer advice on sexual matters and a mole checking service.
Is it OK to use mobile phones?
Coverage for mobiles at the Festival used to be extremely patchy and when I first went in 1999 it was almost impossible to get a signal anywhere in the valley. Nowadays the situation is much better. Orange have a booster onsite and most other networks seem to work fine.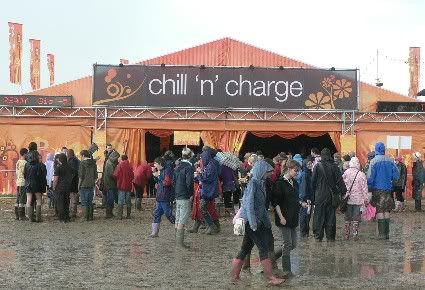 You can get your phone recharged at the Orange Chill & Charge tent or by using solar power at some of the Greenfield cafes. Top up machines are also available at the Information Points if you run out of credit.
Go on to page 4...
This page last updated: 01 September 2022
---


If you have a comment, please leave it in the
guestbook
. To contact Flash directly, complete
this form
.
Like this site? Buy me a drink!
This site moved from a fixed width to the current layout in 2009. Some older content such as photo sets may still have a fixed width. However if you notice any pages which are actually broken, please be kind enough to let me know via
this form
.
© Flash Wilson 1999-2010.
I charge a fee for use of my photos
.
---