Writing to a Death Row Prisoner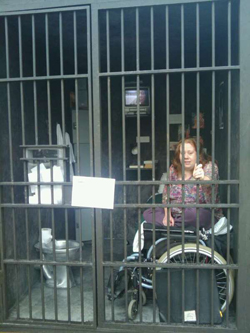 In May 2003 I made the decision to write to a prisoner on Death Row. It has been an extremely rewarding activity. Here you can find more information about it.
N.B.: If you would like to write to someone on death row, please do not email me asking for a list of addresses or pick a name at random from the internet!
I strongly recommend you join an organisation like
Lifelines
or
Human Writes
as they will give you the details of someone who has specifically requested a penfriend, and will provide support via a co-ordinator, magazine and an email discussion group. Also, please note that if you are under 18 the US prisons will not permit you to write to a prisoner unless you are a family member.
By the way, the photo shows me in a mock up of a Death Row cell. Small, isn't it? It was part of an event organised by
Reprieve
, who provide legal support to prisoners, from Death Row to Guantanamo. If you are able, please consider supporting Reprieve.
Deciding to write
First contact
A few tips




Our friendship
What I've sent
Appearing on BBC Radio 5 Live





Sites about specific people
Other sites about life on Death Row



If you have any questions about writing to a prisoner by all means send me an email via this form.
This page last updated: 01 September 2022
---


If you have a comment, please leave it in the
guestbook
. To contact Flash directly, complete
this form
.
Like this site? Buy me a drink!
This site moved from a fixed width to the current layout in 2009. Some older content such as photo sets may still have a fixed width. However if you notice any pages which are actually broken, please be kind enough to let me know via
this form
.
© Flash Wilson 1999-2010.
I charge a fee for use of my photos
.
---